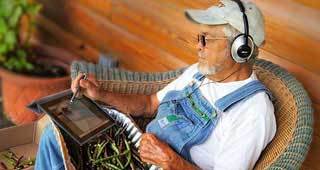 This quote from the seventeenth century is still true today, with a few important additions. Music calms us and takes us places in our imaginations through our ears. It's also used to ease depression, stimulate memory, help people living with Parkinson's, Tourette's, and autism, and help improve the quality of life for people with Alzheimer's and other dementias. Listening to music or singing, whether alone or in a group, is not only beneficial to the brain, it's also a lot of fun!
Whether it's music from the past or a catchy tune, it's heartening to see a friend or loved one living with dementia respond to a piece of music, sometimes by moving or swaying to a Motown beat, other times by singing all the verses to Silent Night, remembering all the words when many of us couldn't get past the first few lines.

While you may think of the public library as a connection to the wider world through books, it's also a connection through music. With a library card, you can:
borrow a wide variety of music on CDs, from early classical to the latest hip hop, and everything in between
borrow and stream a wide variety of music directly to your computer or mobile device through Hoopla without being on a waiting list or waiting for your branch to open.

The library's connection with music extends to free live concerts & performances throughout the year.
It's an opportunity for an outing that doesn't involve tickets, dressing up, or an entire evening's commitment; some time in the afternoon watching beautiful music made in a comfortable setting with your loved one.