May is Asian American and Pacific Islander Heritage Month. According to the Pew Research Center "Asian Americans trace their roots to more than 20 countries in East and Southeast Asia and the Indian subcontinent, each with unique histories, cultures, languages and other characteristics." These countries include China, Japan, Taiwan, Korea, Mongolia, Vietnam, Laos, Cambodia, Thailand, India, Sri Lanka, Pakistan, Bangladesh, Nepal, Myanmar, Bhutan, the Philippines, Indonesia and Malaysia. Pacific Islanders include Native Hawaiians and Pacific Islanders from Samoa, Fiji, Guam and the Northern Mariana Islands.
Heritage months like this one are annual reminders to acknowledge the experiences of various marginalized people that are too often painful, and to elevate their contributions that are too often hidden or ignored. These months are also celebrations of their culture and time to prioritize reading and listening to their stories and experiences. We have gathered here many selections from our collections to provide opportunities to immerse yourself in the diverse histories, cultures, and traditions of people of Asian-Pacific ancestry and to read and listen to their stories.
Programs
Lawrence The Story of Chinatowns in the United States
Tuesday, May 3 at 10:30 am Register
Join us at the Lawrence Branch as we host Liu Li (李柳), PhD and Associate Professor of Chinese, Ball State University. Learn about the history of the earliest Chinatowns in the United States.
Nora Spring Calligraphy
Tuesday, May 10 at 6:00 pm Register
Presented by the Japan-America Society of Indiana, Ms. Minori Abel will teach participants how to write Japanese calligraphy using simple Japanese characters associated with spring. Since ink is being used, participants should wear dark or older clothing in case the ink splatters.
Featured Graphic Novel Memoirs
A memoir is a narrative book, written from the perspective of the author, that tells about a particular portion of their life. Memoirs give individual perspective during pivotal events and share what a person felt during it. A memoir may or may not begin the storytelling in childhood as an autobiography often does whose purpose spans the author's life time, instead focusing on a particular moment or influential experience that has shaped the author. Memoirs create empathy and understanding at a deeper level beyond the facts. The story is told as the author remembers it. The word "memoir" comes from the French "mémoire" or "memory." The author is the only one who can tell the story. Our staff have selected three outstanding graphic novel memoirs of the Asian American experience to recommend this month.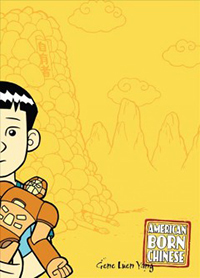 American Born Chinese by Gene Luen Yang is made up of three seemingly unrelated stories. One is about a Chinese American student who is bullied and just wants to fit in, the second is the story of the Monkey King from Chinese mythology who works hard to master the skills necessary to become a deity, and third, the story of an all-American kid who is embarrassed by his cousin who he feels is every negative stereotype of Chinese people rolled into one character. American Born Chinese blends modern day issues with a beautiful old Chinese myth tell tell a story about racism, identity, and acceptance. It won the 2007 Best Book Award from The Chinese American Librarians Association, the 2007 Michael L. Printz Award, and the 2007 Eisner Award for Best Graphic Album. In addition, it was a finalist for the 2006 National Book Award. IndyPL_KristenF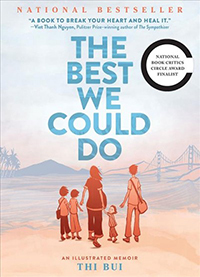 In the graphic novel memoir The Best We Could Do, Thi Bui tells the story of her family, starting with the birth of her son and then working back in time. She chronicles the lives of her parents through the ever shifting turmoil in Vietnam and their escape to the United States. Through it all, she questions whether or not she will be as strong as her parents and if she is worthy to even be a parent. Bui's book was an American Book Award winner, a National Book Critics Circle finalist in autobiography, and an Eisner Award finalist in reality-based comics. IndyPL_MarianneK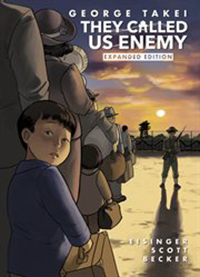 Finally, you may know George Takei from his performance as Sulu on the TV show Star Trek and from his wonderful social media presence, but when he was a child during World War II he spent time in an internment camp in America for people of Japanese descent. Takei sheds light on this dark part of our history in his emotional memoir They Called Us Enemy. It's a story of legalized racism, the love of family, and perseverance. Takei's book won the 2020 Asian/Pacific American Librarians Association Literature Award, the 2020 American Book Award, and the 2020 Eisner Award. IndyPL_KristenF
More Staff Recommendations
For more recommendations from our staff see Asian American Pacific Islander Heritage Month, a book list celebrating the unique and varied voices of Asian and Asian American authors. This extensive and annotated list of 50 recommendations includes a wide variety of genres as well as representation from the different countries and cultures that make up the Asian American experience. For even more reading suggestions see our book lists for Kids, Teens, and Adults.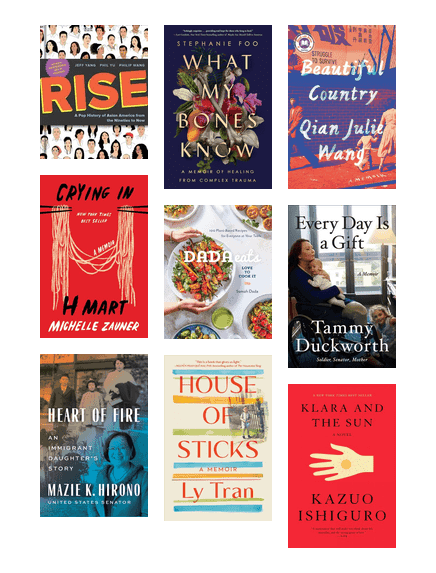 e-Books & Streaming
You can download and stream a variety of e-books, movies, music, and more instantly for free with your library card. Please visit e-Book & Streaming Help for detailed information about how to use our digital collections.
Browse a selection of e-books, audiobooks, magazines and movies about or by Asian Americans or Pacific Islanders in our OverDrive collection or set aside an evening or two to enjoy a movie feature from one of our streaming movie services. Kanopy features collections of Chinese Cinema, Indian Cinema, Japanese Cinema, Korean Cinema, and Thai Cinema. Hoopla feature an Asian Cinema collection.
Poetry
Enjoy online the National Poetry Foundation portal Asian American Voices in Poetry. This collection is intended to introduce readers to Asian American poets. Simply click on a poet's name to learn about them and read selections of their work.
Award Books
Online Resources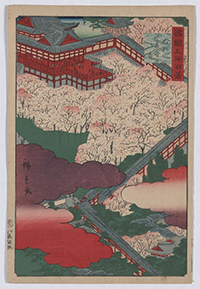 To take a deep dive online, visit the PBS site, Ancestors in the Americas, which provides a comprehensive list of resources related to Asian American heritage or explore this comprehensive web portal that is a collaborative project of the Library of Congress, the National Archives and Records Administration, the National Endowment for the Humanities, the National Gallery of Art, the National Park Service, the Smithsonian Institution, and the United States Holocaust Memorial Museum.
For a look at local history, explore the Encyclopedia of Indianapolis articles featuring Chinese, Filipino, Japanese and Asian Indian histories in Indianapolis. You can also browse the Indianapolis Sister Cities International Digital Collection which features the Sister Cities Taipei, Taiwan, and Hangzhou, China and Hyderabad, India.
Especially for Kids
Enjoy these online read alouds featuring stories by Grace Lin, Demi, Ji-li Jiang, Virginia Loh-Hagan, Minh Lê, and more. You can also listen to stories read aloud in Mandarin brought to you be Scholastic Treasures.
To find even more great titles for kids, children's book author Linda Sue Park has created and manages a site called KiBooka that highlights kids' books by Korean Americans.