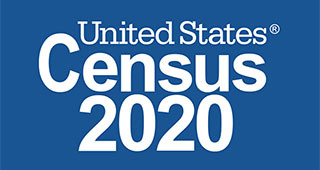 The U.S. Census Bureau counts every person living in the United States every 10 years. It counts everyone living in the 50 states, District of Columbia, and five U. S. territories.
In response to concerns for public health, the Census Bureau has extended self-response two weeks, until October 31, 2020. US residents can answer the census safely from home, online at https://my2020census.gov. US addresses will continue to receive reminders by mail.
Did you know that the count is mandated by Article 1, Section 2 of the Constitution? It is conducted by the U.S. Census Bureau, which will send each home a short questionnaire – and for the first time, you will be able to respond online, in addition to by phone or mail.

Individual responses to the census are confidential for 72 years and cannot be shared with anyone.

The decennial (every ten years) census illustrates our country's changing demographics and determines the distribution of power at every level of government, including things such as how many seats your state gets in Congress and how over $675 billion in federal funding is distributed to states & communities. The Census also helps create jobs, provide housing, prepare for emergencies and build schools, roads and hospitals.
Census 2020 is important to our entire community.

While many households in Marion County are practicing social distancing and are under self-quarantine during the COVID-19 pandemic, Count Me INdy is reminding residents it has never been easier to respond to the 2020 Census on your own, whether online, over the phone or by mail—all without having to meet a census taker.
How to Safely Complete the U.S. Census
Respond online today by visiting www.my2020census.gov, or by calling one of the phone numbers below.
Additionally, the U.S. Census Bureau offers guides in 59 non-English languages, including American Sign Language, as well as guides in Braille and large print. Visit their Language Support page to learn more.