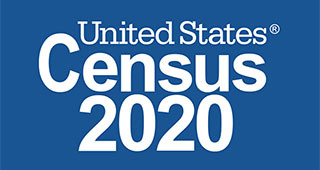 The U.S. Census Bureau counts every person living in the United States every 10 years. It counts everyone living in the 50 states, District of Columbia, and five U. S. territories. The next census will take place in April, 2020.
Did you know that the count is mandated by Article 1, Section 2 of the Constitution? It is conducted by the U.S. Census Bureau, which will send each home a short questionnaire – and for the first time, you will be able to respond online, in addition to by phone or mail.

Individual responses to the census are confidential for 72 years and cannot be shared with anyone.

The decennial (every ten years) census illustrates our country's changing demographics and determines the distribution of power at every level of government, including things such as how many seats your state gets in Congress and how over $675 billion in federal funding is distributed to states & communities. The Census also helps create jobs, provide housing, prepare for emergencies and build schools, roads and hospitals.
The Indianapolis Public Library provides free access to computers and the internet, where you will be able to fill out your Census form at any branch location or Central Library. Several branch locations will host partners from CountMeIndy and the United States Census to answer questions and assist people in filling our census forms during March & early April.
Please visit IndyPL and our partner resources below. Census 2020 is important to our entire community and our staff is here to help answer your questions.