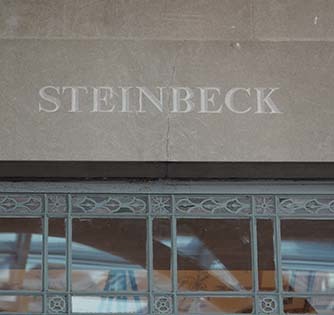 Thank you to our patrons who submitted names for this project. At this time we are not collecting any more submissions, and we will update this page as this project continues.

Did you know of the 81 names of literary figures currently memorialized via name engravings at Central Library, only five are women and none of the African Diaspora?
We are seeking the community's help to add literary leaders of color to the list of notable authors etched into the interior walls of Central Library. Make your suggestion in the form below!
"We want our Libraries to reflect the diverse public we serve. This project is an opportunity to shine a light on the literary contributions of people who have been omitted in the past," said Tariq Robinson, Adult Program Specialist with IndyPL. "From these community suggestions, we will select names that are representative of the world's historical, literary, and artistic development."
IndyPL's Name Engraving Committee hopes to engrave an initial group of names as we celebrate the Center for Black Literature and Culture's 4th anniversary. This year, The Library will engrave the names of Black authors outside of the CBLC and will subsequently add the names of authors of other diverse backgrounds. The Indianapolis Public Library Foundation is raising funds for the project, and the number of names added is dependent on the funding secured.

"As a longtime Indianapolis Public Library patron, I brought to Library officials' attention the omission of persons of color represented in the names engraved at Central Library and I'm excited to be working with them to address this," said Twyman. "Correcting the historical narrative by making public spaces more inclusive and equitable is a personal mission of mine— so much so that I am committing financial support from the Dr. Michael R. Twyman Endowment Fund and The Library Foundation, along with additional funding from my wife and me to bring this project to fruition. We encourage others to support this worthwhile effort and will match the community's gifts, dollar for dollar, up to $9,000."
To support this project, go to "Give" at The Indianapolis Public Library Foundation to make an online donation and discover other ways to give. Please select "Central Library" when asked how to apply your gift and put "ENGRAVING" in the notes box at the end of the form.

So far, major support has been provided by Michael & Adelpha Twyman, the Dr. Michael R. Twyman Endowment Fund, and Lilly Endowment Inc. through The Indianapolis Public Library Foundation.