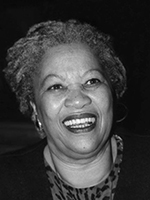 Toni Morrison is one of the most important writers of the Twentieth Century and is an American treasure. She chronicled the African American experience in her novels asking questions about race and identity. There is a lyricism to her writing detailing heart-breaking subject matter. Morrison's writing received the highest honors for literature including the National Book Critics Circle Award, the National Book Foundation's Medal, and the Pulitzer Prize for fiction. In 1993 she became the first African American woman to win the Nobel Prize in Literature.
She was born Chloe Anthony Wofford in Lorain, Ohio on February 18, 1931, to parents who had escaped sharecropping and racial violence in the South for opportunities in the North, settling in a steel town on the shores of Lake Erie. Her family instilled in her a love of reading. Morrison recounts that her grandfather learned to read at a time when it was illegal for him to do so and when it was forbidden for whites to teach African Americans how to read. Morrison rightly surmises, "reading is a revolutionary act." Being an avid reader, Morrison spent her childhood at the Public Library, eventually getting a job shelving books. Morrison admits she spent too much time reading the books instead of shelving them, and eventually moved to the cataloging department.
After high school, she enrolled at Howard University, majoring in English and earning her degree in 1953. She continued her studies at Cornell University, earning an MA in 1955. She went on to teach English at Texas Southern University and then returned to Howard University. There she married, had two sons, and divorced. As a single mother, she moved to New York to become a textbook editor at Random House. She was interested in developing a canon of Black work, helping to publish Toni Cade Bambara, Lucille Clifton, Angela Davis, and Muhammad Ali. In those days, Morrison recalls that she was not marching in the streets. Instead, she would do what she could from where she was, helping to publish voices and ideas of Black Americans, creating a record that would last.
During her time at Random House, Morrison began writing her first novel, The Bluest Eye. Published in 1970, she explored the standards of beauty and childhood trauma, specifically asking the question, how does a child learn self-loathing? While working full-time as an editor, Morrison continued writing novels publishing Sula, Song of Solomon, and Tar Baby. In 1988, Morrison published her masterpiece, Beloved, which attained both critical and commercial success eventually translated to film, starring Oprah Winfrey. Beloved won the Pulitzer Prize in 1988 and has been hailed the best work of American fiction.
In her lifetime, Morrison has written 11 novels, as well as essays, plays, operas, and even collaborated with her son, Slade Morrison, on several children's books. She joined the faculty of Princeton University, becoming the first African American woman to hold a named chair at an Ivy League institution. In 2012, she was awarded the highest civilian honor, the Presidential Medal of Freedom by President Barack Obama. Morrison passed away August 5, 2019 in New York. Morrison famously said, "If there's a book you want to read, but it hasn't been written yet, then you must write it." See our Toni Morrison book list and our Toni Morrison book list for kids.