Five Ways to Find Your Next Romantic Read
Romances are books that feature a relationship between two main characters that have a "happily ever after" ending. Romances can be a great optimistic escape! There are many sub-genres too, if there is a particular setting or mood you like, such as historical, contemporary, paranormal, or inspirational. Here are five tips to help you find your next contemporary romantic read as well as a convenient clickable list of contemporary romance authors linked directly to our catalog for placing requests or checking out e-books or audiobooks. See also our If You Like Historical Romance guide.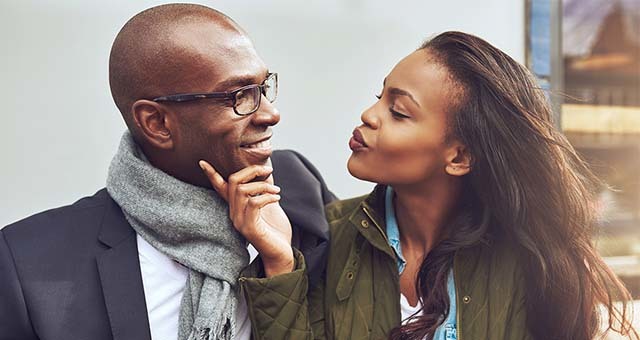 1. Read an award winner.
There are a variety of awards given each year for the best in romance writing. Browse the winners from peoples' choice to the best romance audiobook.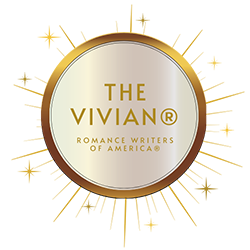 The Romance Writers of America (RWA) Vivian Award and the Romantic Novelists Association (RNA) Rona Award both recognize excellence in romance writing.
The Swoon Awards, or "Swoonies" is a reader-based award celebrating the romance community's favorite romance novels of the year.
The Emma Awards are the premier award for diversity in romantic literature recognizing excellence in works featuring diverse and multicultural protagonists.
For audiobook listeners try out the Audie Award winners in the Romance category. Here is the 2021 Audie Award winner for romance as well as the four finalists.
---
2. Borrow e-books or downloadable audiobooks.
Use romance lists from OverDrive to find e-books and downloadable audiobooks. If you have never borrowed from OverDrive before, both app directions and browser directions are available as well as a video tutorial and Overdrive Support.
Need more help? Ask a Library staff member at any of our locations or call, text or email Ask-a-Librarian.
---
3. Get reading recommendations from IndyPL staff.
Take advantage of the vast reading skills of the romance reading IndyPL staff. Click on a featured booklist to get romance reading recommendations, or see all our staff romance lists here.

For even more ideas tailored to your particular romance taste, one of our staff romance readers suggests trying this book finder from Smart Bitches, Trashy Books. It allows readers to search books by genre (e.g. "Contemporary Romance" or "Western"), theme (e.g. "Fake Relationship" or "Married Couple"), and character archetype (e.g. "Rockstar" or "Pirate"). Results are also linked to graded reviews, making it easier to find a book that suits your needs.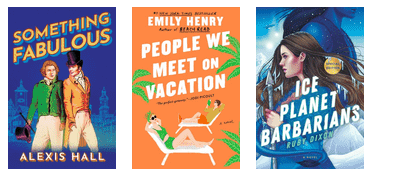 17 Paperback Romances to Toss Into Your Beach Bag This Summer
Whether you're catching sun on the beaches of some far off coast or off of your own cozy balcony, one of these paperback romances is sure to be the perfect fit-- for your hand and your reading tastes!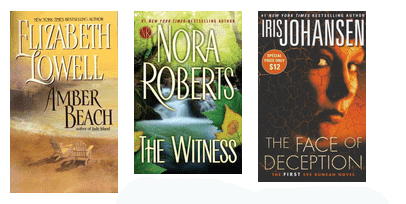 Romantic Suspense
Finding your true love while also solving a mystery combines two of my favorite reading genres, ROMANCE and MYSTERY. Here are a few titles you might enjoy.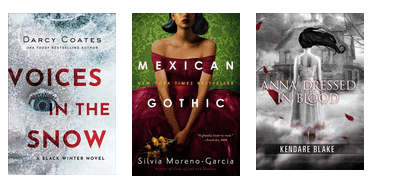 Horror Romance
Some book recommendations for those who love both sappy and spooky!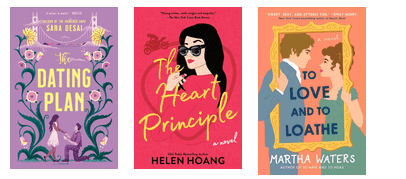 The Best Rom-Com Books of 2021
Much like in 2020, I spent 2021 trying to escape reality through the love lives of fictional characters. I will warn you that a few of my favorites dwelled on some pretty tough topics this year and it wasn't just kisses and puppies that made these books my favorites of the year. Don't want to wait for the hold lines to go away on some of these? Check out my favorites from 2020 here.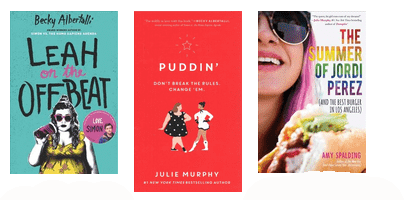 Body Positive Plus-Size YA Romances
Body positive romances where plus-size girls get ALL the happy endings! Thanks to BookRiot for these excellent annotations.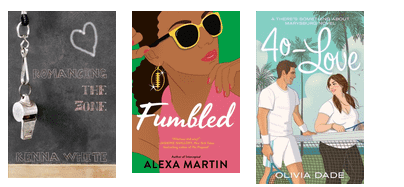 For the Love of the Game: Sports-Related Romances
Has the end of the Olympics left you daydreaming about a sportsy-romance? Check out these 14 romance novels, each of which feature a different sport. From roller derby to tennis to gymnastics, these books will have you eager to try out a new sport (and maybe ready to fall in love!)




Celebrate Black Love With These Romance Novels
Each of these 16 books is written by a Black author and features two Black main characters. Watch Black bakers, musicians, athletes, and cowboys find love and joy with one another.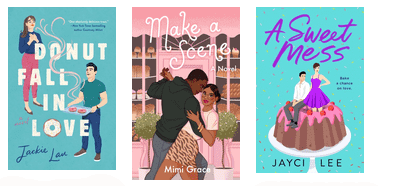 Kiss and Bake Up: Contemporary Romances Filled with Sweets
Who doesn't love a romance novel that happens to be covered with a dusting of sugar? Enjoy these 11 romances that feature pastry chefs and bakers falling in love with food critics, neighbors, friends, and even witches. As they say, meals go to the stomach but dessert goes to the heart.
Reality TV Romance
Romance novels with premises grounded in reality TV, from dating shows that sound suspiciously similar to the Bachelor franchise to HGTV-like home remodeling and cooking competitions.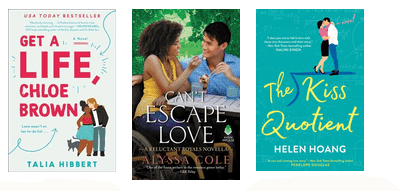 Contemporary Romances with Disabled Protagonists
Traditional romance novels rarely feature disabled characters and when they do, the protagonist's disability is often framed as something that must be overcome. These 11 contemporary romances showcase disabled protagonists finding warm, sweet, and sexy happy endings.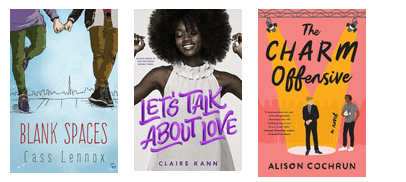 Contemporary Romances With Asexual Main Characters
In the past decade, there has been an increase in the number of queer romances that are being published, including romances featuring asexual characters. Enjoy these 11 contemporary romance novels, each of which feature at least one main character that identifies as asexual, demisexual, or graysexual.
---
4. Use your IndyPL Library card to login to Novelist Plus.
Get read-alikes & other "what to read next" suggestions from Novelist Plus. On Novelist Plus you'll find romance reading recommendations, read-alikes, series lists, reviews, and lists of award-winning romance books. Once you login with your IndyPL library card, choose the "Romance" category from the list on the left which includes choices like "Christian Romances," "Love in a Small Town," "LGBTQIA Romances," "Romantic Comedies" and more.

Here is a sample recommendation from the category "Romantic Comedies." When you click on a book you can read a brief description, see a star rating, and click "Check Availability" to see if it is available to borrow from IndyPL.
---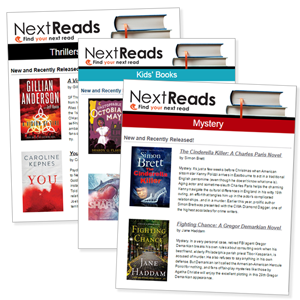 5. Subscribe to the Romance newsletter from NextReads.
Subscribe to NextReads to receive romance reading recommendation in your inbox monthly. Book suggestions are linked to our catalog for easy requesting. It's FREE! See a sample issue. Subscribe to NextReads here!