"Volunteering is the ultimate exercise in democracy. You vote in elections once a year, but when you volunteer, you vote every day about the kind of community you want to live in."
~ Author unknown
Our volunteers at Indy Library Store—and there are more than 70 of them on our active list—create the community they want every day. Maybe you'd like to join them? Here are stories from a few of our volunteers about how they came to us and why they stay. Find out more about volunteering for IndyPL.
---
Terry and Sandy Holt
The Holts, from Brownsburg, have volunteered at Indy Library Store for four years. Their love of books brought them, after retirement. "You have geared your body to a working atmosphere and you can't just go and give up," Terry said. "So we looked around for where we could volunteer."
Not only do they volunteer at the store and during our sales, but the Holts also help provide books to residents of 12 local nursing homes. Beyond giving back, they have other reasons for volunteering, Sandy says. "We have made friends with people we would probably never have met otherwise," she said. "Friends we can joke with, discuss issues with, and laugh with."
---
Laura Edwards
Laura began volunteering in 2011. "I wanted to be more active in the community," she said, "and this seemed like a perfect mix of sociability and books." For her—she also volunteers at Indy Reads and is a member of CHIP (Coalition for Homelessness Intervention and Prevention)—it is a way to stay connected. "I have a deep-seated need to contribute. To make things a little better than I found them. Books help educate, entertain, inspire, and more. I like being a part of finding them new homes."
---
David Huffman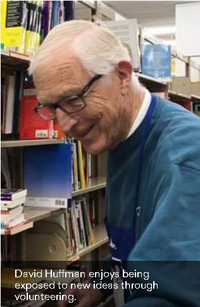 David, a former 5th and 6th grade teacher, is the leader of the store's Business section and a volunteer of nine years. Why the library? "The people here are really nice, very personable," he said. "And things are constantly changing. There's a routine, but at the same time, I feel I'm accomplishing something different and worthwhile each time. And the coffee breaks are great!"
---
Linda L. Haas
Linda volunteers for Indy Library Store as a way to both give back to the community and celebrate the place libraries hold in her life. "The Indianapolis Public Library helps me live a fantastic life," she says. "I grew up in a poor neighborhood, one block down from the first Brightwood library on Station Street. Books helped me see there was another world out there. "I am glad my volunteering helps the library help children on the path to a better life."
---
Group volunteers
In addition to ongoing volunteers like the Holts, Laura, David, and Linda, Indy Library Store (and the Library) welcomes one-time groups from corporations and other community-based organizations. Groups of up to 10 people can arrange volunteer sessions at the store to suit their individual needs. We've hosted groups from Salesforce, Hensley Legal Group, Damar School, Herman Kittle, and many more.

Book sales through Indy Library Store mean more money for the Indianapolis Public Library Foundation, which in turn, uses those funds to support programming at the system's 24 branches for children and adults.
The Library has a variety of volunteer options at locations throughout the city, including Indy Library Store. To learn more please contact us or call the Library's Support Programs & Volunteer Resources Office at 317-275-4046.
~ Mike Ehret, Coordinator, Indy Library Store