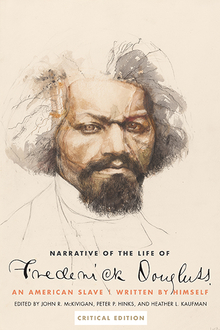 Frederick Douglass was born into slavery in 1818 but then grew up to became a human rights activist, gifted public speaker and author. He also started a newspaper, was a U.S. Marshal, and at the 1888 Republican National Convention became the first African American to receive a vote for President of the United States at a major party's convention. (Benjamin Harrison, from Indianapolis, went on to win the presidency in 1889.) He lectured on civil rights and abolition and also supported Elizabeth Cady Stanton, Sojourner Truth, and Susan B. Anthony in their fight for women's suffrage. He published his first autobiography (he wrote three altogether) called Narrative of the Life of Frederick Douglass, an American Slave in 1845. It it the first hand account of his childhood as a slave. You can read it here.

On July 5, 1852, Douglass gave a speech commemorating the signing of the Declaration of Independence. Abraham Lincoln would not issue the Emancipation Proclamation until 1863 and the 13th amendment that freed slaves was not passed until 1865, so this speech was given well before slaves were free. His words on that day have been referred to as his most memorable and moving, and have resonated with Black citizens for more than 150 years for pointing out at the time that not all were free. The speech is called The Meaning of July 4th for the Negro. It says in part,
"This Fourth of July is yours, not mine. You may rejoice, I must mourn." And he asked them, "Do you mean, citizens, to mock me, by asking me to speak to-day?"

The Massachusetts Foundation for the Humanities started a program called Reading Frederick Douglass Together that encourages families, friends, neighbors, and co-workers to gather and read the speech aloud to help shape our understanding of freedom in American. The fourth of July weekend, when we pause to reflect on our history of freedom, is an excellent time to join in. You can find the text here. There is also a printable tip sheet, discussion guide, and page of helpful resources to help plan your reading.
Watch this short video as five descendants of Frederick Douglass read excerpts from Douglass's famous speech which asks all of us to consider America's long history of denying equal rights to Black Americans. The video features (alphabetically) Douglass Washington Morris II, 20 (he/him) Isidore Dharma Douglass Skinner, 15 (they/their) Zoë Douglass Skinner, 12 (she/her) Alexa Anne Watson, 19 (she/her) Haley Rose Watson, 17 (she/her).
More Interesting Reading:
---
Visit the Center for Black Literature & Culture at Central Library to find and check out books that affirm and celebrate the Black experience.
The CBLC includes a section just for kids. Every book taken off the shelf, both fiction and non-fiction, features Black characters or historical and contemporary people that highlight the Black experience, history, or biography.