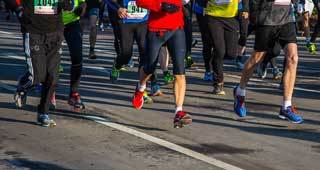 Check out these ideas for inspirational books, music, movies and local opportunities to jump start your training season.
If you're interested in training for a 5K or half marathon, there are lots of local resources to help you get ready. The Indy YMCAs offer training programs – check their website for more information. The National Institute for Fitness and Sport, right here in Indianapolis, also offers half marathon training.
There are a number of groups in the city devoted to fitness and running that are free and welcoming! Check out Black Girls Run, November Project, Black Men Run, and Indy Runners.
Many local running stores also offer training as well as free group runs. Ask them about what they might offer.
Once you're ready to race, look for events on these online calendars:
Or pair a beautiful run with a Library visit! Many of our locations are located within a short distance of excellent places to run.
There are races practically every weekend too, from 5Ks to full marathons and triathlons. So what are you waiting for? Lace up your shoes and start running! New running books to inspire you are listed below, or queue up an audiobook or some new music - free with your IndyPL library card!
---