6 Ways to Find Your Next Historical Romantic Read
Here are four tips to help you find your next historical romantic read as well as a convenient clickable list of historical romance authors linked directly to our catalog for placing requests or checking out e-books or audiobooks. See also our If You Like Contemporary Romance guide.
1. Watch IndyPL's Video Presentation Race in the Regency Era: Austen, Bridgerton, and Beyond
This illustrated online presentation explores the complex history of literary representations of people of color during the Regency period with Mary Helen Truglia. This presentation was part of the Culture, History, and Society lecture series hosted jointly by the Indianapolis Special Collections Room (ISCR) and the Lawrence Branch of The Indianapolis Public Library. It was made possible by the Indy Public Library Foundation.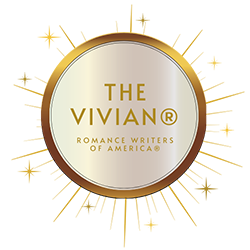 2. Read an award winner.
There are a variety of awards given each year for the best in romance writing. Browse the winners from peoples' choice to the best romance audiobook.
The Romance Writers of America (RWA) Vivian Award and the Romantic Novelists Association (RNA) Rona Award both recognize excellence in romance writing.
The Swoon Awards, or "Swoonies" is a reader-based award celebrating the romance community's favorite romance novels of the year.
The Emma Awards are the premier award for diversity in romantic literature recognizing excellence in works featuring diverse and multicultural protagonists.
For audiobook listeners try out the Audie Award winners in the Romance category.

---
2. Borrow e-books, downloadable audiobooks, or movies.
Use romance lists from OverDrive and Kanopy to find e-books, audiobooks & streaming movies. Here are some short cut links to easily borrow online with your IndyPL library card. If you have never borrowed from OverDrive before, both app directions and browser directions are available as well as a video tutorial and Overdrive Support. If you have never borrowed from Kanopy before, you can get help here.
Need more help? Ask a Library staff member at any of our locations or call, text or email Ask-a-Librarian.
---
3. Get reading recommendations from IndyPL staff.
Take advantage of the vast reading skills of the romance reading IndyPL staff. Click on a featured booklist to get historical romance reading recommendations.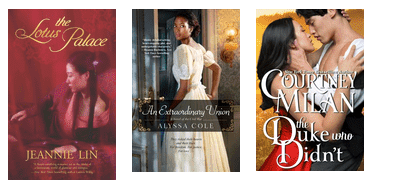 Historical Romance Featuring Characters of Color
As a genre, historical romance has faced increased criticism in recent years for it's lack of diversity. Less than 10% of romances published in 2020 were written by authors of color and the vast majority of historical romance novels focus on rich white characters finding love in England. However, historical romance has the capacity to spotlight a rich history of people of color finding love and joy, no matter the time period. Check out these historical romance novels, each of which feature at least one main character of color!
---
Enemies-to-Lovers Historical Romance to Read in Honor of Bridgerton's Second Season
Are you counting down the days until the season premiere in March? Instead of agonizing over the remaining days, fill your time with these 12 historical romance novels that have the same sparkling enemies-to-lovers dynamic that is highlighted in Bridgerton's next season. These books are filled with all the brilliant banter, witty characters, and unrepentant rakes your heart could desire.
Bi Historical Romances
A few more I like that The Library doesn't currently own: Behind These Doors by Jude Lucens, Delicate Deception by Cat Sebastian, and Bound with Honor and Bound with Passion by Megan Mulry.
---
4. Use your IndyPL Library card to login to Novelist Plus.
Use your IndyPL Library card to login to Novelist Plus. On Novelist Plus you'll find historical romance reading recommendations, read-alikes, series lists, reviews, and lists of award-winning historical romance books. Once you login with your IndyPL library card, choose the "Romance" category from the list on the left which includes choices like "Regency Rogues," "Victorian Days," "Men in Kilts," and more.

Here is a sample recommendation from the category "Victorian Days." When you click on a book you can read a brief description, see a star rating, and click "Check Availability" to see if it is available to borrow from IndyPL.
---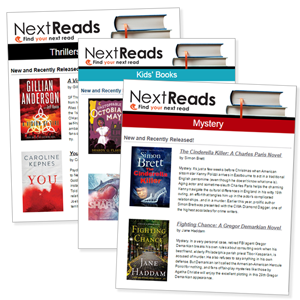 5. Subscribe to the Romance newsletter from NextReads.
Subscribe to NextReads to receive romance reading recommendation in your inbox monthly. Book suggestions are linked to our catalog for easy requesting. It's FREE! See a sample issue. Subscribe to NextReads here!