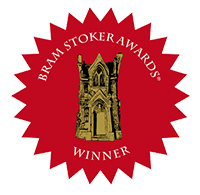 1. Read an award winner.
Given out yearly since 1988, The Bram Stoker Awards® are the premiere awards for outstanding horror writing presented by the Horror Writers Association. To place convenient requests in our catalog, see all of the Bram Stoker Award winners in our collection.
---
2. Borrow e-books, downloadable audiobooks, or movies.
Here are some quick links to horror fiction & films you can borrow with your IndyPL library card.
If you have never borrowed from OverDrive before both OverDrive app directions and OverDrive browser directions are available as well as an OverDrive video tutorial and Overdrive Support. If you have never borrowed from Kanopy before here are some Kanopy directions and a Kanopy video tutorial.
Need more help? Ask a Library staff member at any of our locations or call, text or email Ask-a-Librarian. The Tinker Station helpline at (317) 275-4500 is also available. It is staffed by device experts who can answer questions about how to read, watch and listen on a PC, tablet or phone.
---
3. Get reading recommendations from IndyPL staff.
Click on a featured booklist to get horror reading recommendations or see all our staff horror lists.
Great Women Horror Writers
Horror writing is traditionally associated with men, but women have written frightening novels and stories.
Diverse Voices in Horror
Satisfy your creepy craving with one of these fresh horror novels by authors of color. Quality frights guaranteed.
Online Horror
Horror stories that incorporate the internet in some way.
Queer Vampires
Between the exchange of fluids and the forbidden desire, vampirism and queerness have been linked in literature for decades. Sexy or scary, you can really sink your teeth into these novels.
---
4. Use your IndyPL Library card to login to Novelist Plus.
On Novelist Plus you'll find horror reading recommendations, read-alikes, series lists, reviews, and lists of award-winning horror books. Once you login, choose the "Horror" category from the list on the left which includes choices like "Blood-drenched Horror," "Creature Feature," "Creepy Clowns & Bad Seeds," and more!
Here is a sample recommendation from the category "Blood-drenched Horror." When you click on a book you can read a brief description, see a star rating, and click "Check Availability" to see if it is available to borrow from IndyPL.
---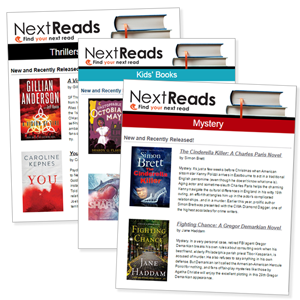 5. Subscribe to the Horror newsletter from NextReads.
Receive horror reading recommendation in your inbox monthly. Book suggestions are linked to our catalog for easy requesting. It's FREE! See a sample issue. Subscribe to NextReads!