Indianapolis has a diverse population of immigrants. More than 80,000 immigrants call Indianapolis home, hailing from countries such as Mexico, Myanmar (Burma), and India. After making their way to the Hoosier state, they must adjust to a new culture, government, and educational system. The Library is one of many community organizations providing resources and education to immigrants, helping them adapt to their new homes.
This year's theme for National Library Week (April 4-10, 2021) is "Welcome to Your Library." Several of the ways that we welcome all people to the Indianapolis Public Library is by striving to be a helpful, welcoming place for all residents through our partnerships with immigrant and refugee organizations within the city. Libraries in the US can be different from those in other countries and cultures. We decided to see what these differences look like, and how IndyPL strives to be a helpful, welcoming place for all residents.
Connecting Communities In Indianapolis
IndyPL met with Amy Shackelford, program director at the Immigrant Welcome Center, to learn more about Indianapolis's immigrant communities and how the Library serves them.
Shackelford says the immigrant population in Indy is "rapidly growing." The majority of the immigrants she works with come from Mexico, Haiti, Nigeria, and Myanmar, and that an immigrant's familiarity with public library systems is largely dependent on the community that they come from. The Immigrant Welcome Center has volunteers called Natural Helpers, who can be found at several IndyPL locations that serve as "mobile sites" for connecting new residents to Library services.
"The Library has been a great partner," said Shackelford. "We connect people with English conversation circles at various branches and send people for tax help. At the Nora Branch, there was a Library staff member who helped facilitate citizenship classes alongside one of our Natural Helpers. We send out information about Library programming, and we are always referring people to various events."
Claudia Montes Salinas, immigrant & refugee program specialist with IndyPL, says The Library has been intentional in co-creating programming alongside immigrant communities. This includes hosting events, book discussions, and film discussions in languages other than English.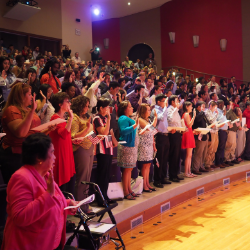 For example, IndyPL recently hosted a workshop for immigrant parents about child and family safety. The facilitator discussed laws in Indiana and the United States, domestic violence, and ways to protect children. Pre-pandemic, Central Library's Clowes Auditorium hosted Naturalization Ceremonies, providing a space for individuals to take the Oath of Allegiance.
The Library, in partnership with the Mexican Consulate, is planning to launch Plaza Comunitaria in 2021, which will offer self-guided classes for adult Spanish-speaking Hoosiers who wish to complete their elementary and middle school educational goals. The free program will be taught completely in Spanish using computer labs at the Haughville Branch. The bilingual library staff at the branch are currently training for the program which is expected to begin in the fall of this year.
"We continue to welcome more immigrants and refugees into our community," said Salinas. "If we start inviting them to the table to create programs and initiatives, the programs become more authentic and representative of Indianapolis."
Learn More About Libraries Around The World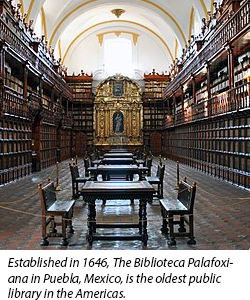 Mexico: Mexico has the largest public library system in Latin America. Patrons from urban areas, such as cities and larger towns, can find large technologically equipped libraries. Libraries are also found in remote communities but may lack internet access and adequate technology, a common challenge faced by libraries all over the world. Biblioteca Vasconcelos, one of Mexico's most architecturally remarkable libraries, has an art and exhibition space and suspended "floating" bookshelves that stretch out to the main hall.
Nigeria: Nigeria has over 300 public libraries. Public-private partnerships have been a valuable resource in developing and improving library services and supporting the people of Nigeria. For example, the Oyo State Library Board collaborated with the Ministry of Education to give books to schools and host celebrity reading programs. Programs that support computer literacy, train school library staff, and support health and wellness have come out of partnerships. Many Nigerians advocate for improving facilities and take it upon themselves to make sure people have access to books by providing services like mobile libraries that visit remote areas.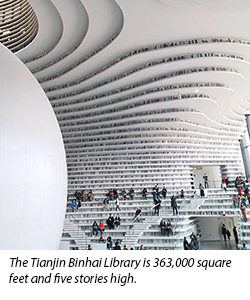 China: After the founding of the People's Republic of China in 1949, government and education leaders worked to develop and improve public library services. Today there are about 3,000 public libraries in China. The National Library of China in Beijing is one of the largest libraries in the world, with more than 30 million pieces of literature. The 363,000 square foot Tianjin Binhai Library is incredibly unique — an architecturally beautiful social space that promotes literacy.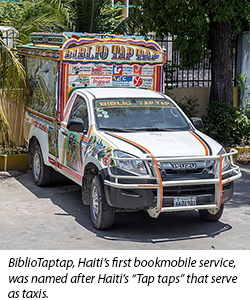 Haiti: When a magnitude 7.0 earthquake struck Haiti in 2010, it would be remembered as one of the most devastating natural disasters in the country's history. It affected every aspect of society including the country's libraries. Relief organizations and Haitian citizens worked together to repair structural damage while finding innovative ways to support education and literacy. The BiblioTapTap, launched by Libraries Without Borders, is Haiti's first post-earthquake mobile library. It is named after painted buses or pick-up trucks called Tap Taps that serve as taxis. The American Library Association contributed to relief efforts by raising funds to rebuild damaged facilities.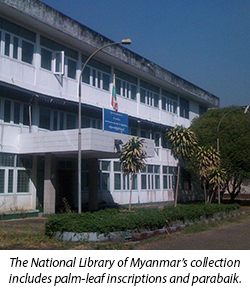 Myanmar (Burma): There are more than 5000 active libraries in Myanmar, many of which are in rural areas. Though most libraries have limited access to new publications, citizens report that they appreciate the impact of libraries in their communities. Organizations such as the Myanmar Book Aid and Preservation Foundation and the Dariu Foundation support libraries by providing books, training, computers, and resources.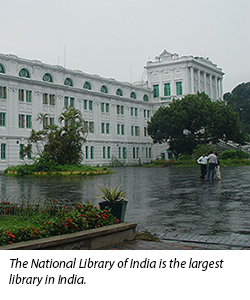 India: In India, libraries are run by state governments using taxes from local administrative bodies, such as city corporations or village councils. India has several impressive libraries including the 30-acre National Library of India which has 2.2 million books and records.
Check out some beautifully illustrated picture books that tell the fascinating stories of more libraries and librarians at We Don't Say Shhhhh Librarians Around the World and Bookmobiles: On the Road for Reading All Over the World.
IndyPL Resources for Immigrants:
Immigrant Welcome Center Mobile Branches
The Library is partnering with the Immigrant Welcome Center to provide services for immigrants and newcomers in Library branches. Immigrant Welcome Center Natural Helpers can be found at two (2) IndyPL branches, Pike and Nora.
English Conversation Circles
Join our English conversation circles to practice and improve your English skills in a comfortable and welcoming place.
Mango Languages
Learn English (and 70+ other languages) with Mango! Mango teaches everyday greetings, helpful phrases, and real-life situations. There are 10+ English as a Second Language (ESL) courses offered. Watch this video tutorial or learn more about Mango on our blog.
Have questions? Ask a Library staff member at any of our locations or call, text, or email Ask-a-Librarian. We are here to help you find what you need and make the most of Library resources!
Want to learn more about the world's libraries? Dig deeper: