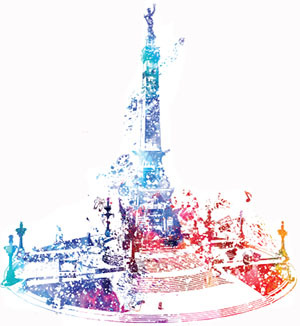 Benjamin Harrison Presidential Site
Physical Collection: Physical collection detailing the life of the 23rd President of the United States.
Digital Collection
Butler University
Digital Collection: Materials from Butler University Special Collections and Archives.
The Children's Museum of Indianapolis Archive
Physical Collection: Photos and historic documents pertaining to Indianapolis history.
Digital Collection: 1,000 artifacts from the museum. Selected objects range from Social Studies to Science to Geography with a particular emphasis on Indiana.

Indiana Album
Digital Collection: Images from private collections across the state; based in Indianapolis.
Historic Indianapolis
Online Blog: A blog about historic events in Indianapolis.

Hoosier State Chronicles
Digital Collection: Newspaper from across Indiana. Indianapolis papers include: Recorder, Sentinel, News, Daily Herald, Journal, Leader.
Indiana Historical Society
Physical Collection: Physical collections of print materials, photographs, Digital Collection: Bass Photograph Collection, Civil War, correspondence, clubs.
Indiana Landmarks
Physical Collection: Preserving the built environment of Indiana.
Indiana Medical History Museum
Physical Collection: The foremost institution in the region for medical history interpretation and preservation.
Indiana Memory Digital Collection: Aggregator of statewide digital collections.
Indiana State Archives
Physical Collection: City records, land records, neighborhood records, meeting minutes, etc.
Indiana State Library
Physical Collection: Genealogy and Rare Books and Manuscripts Finding Aids | Manuscript Catalog.
Digital Collection: Photographs, maps, manuscripts, broadsides, pamphlets, periodicals, government documents, genealogy materials.
Digital Collection: Indiana State Library Historical Bureau; Indiana State Historical Markers on a variety of Marion County topics.

Indiana University Purdue University Indianapolis (IUPUI) Digital Collections: Speedway, Benjamin Harrison presidential site, LGBTQ+, City Directories, Sanborn Maps, Crispus Attucks Museum.

Indiana Department of Natural Resources
Online Database: Database of historic properties and cemeteries within Indianapolis.
Indianapolis Firefighters' Museum
Physical Collection: Indianapolis fire service history through exhibits, photographs, artifacts, log books, and more.
Digital Collection: Materials include photographs, logbooks, yearbooks, scrapbooks and other items the Museum has collected over the years.

Indianapolis Long Ago
Facebook Group: Photos and history from fans of Indianapolis history.
Indianapolis Metropolitan Police Department
Physical Collection: All things Indianapolis police history in photographs, log books, video, and artifacts.
Digital Collection: Arrest logs from the early 1900s, information about some of the very first policewomen, mug shots from the turn of the century, IPD personnel records, and video footage of Indianapolis policing from the 1980s and 1990s.

Indianapolis Museum of Art at Newsfields
Stout Reference Library and Archives
Physical Collection: Indiana Artist Files, history of Oldfields estate, Art Association of Indianapolis to Newfields history, various arts-related manuscript collections.
discovernewfields.org/research/libraries | discovernewfields.org/archives
Digital Collection: Selections from online manuscript collections.
Indianapolis Public Library
Physical Collection: Special Collections Room; All things Indianapolis history from yearbooks to neighborhoods to city governance.
Digital Collection: Yearbooks, arts organizations, civic organizations, public safety, neighborhoods, newsmagazines.

Indianapolis Star ProQuest Database
Online Database: Access 1903-present via indypl.org with a library card.
Indy Nostalgia
Facebook Group: Photos and history from fans of Indianapolis history.
Invisible Indianapolis
Online Blog: Research blog detailing race, heritage, and community memory in Indianapolis.
Irvington Historical Society
Physical Collection: Property, school and family records related to Greater Irvington.

National Historic Geographic Information System (NHGIS)
Digital Collection: Historic census tract-level census data available in GIS formats.
The Polis Center
Online Databases: Data visualization, aggregation, statistics and informational databases.
UIndy Mayoral Archives
Digital Collection: Includes archives for L. Keith Bulen, Richard G. Lugar, William H. Hudnutt, Stephen Goldsmith.