The entire community is invited for a day of celebrating authors and books. There will be an artists' market, writer's workshop, children's activities, vendors, registration for the Summer Reading Program and Library cards. Juneteenth will also be celebrated with a Civil War reenactment.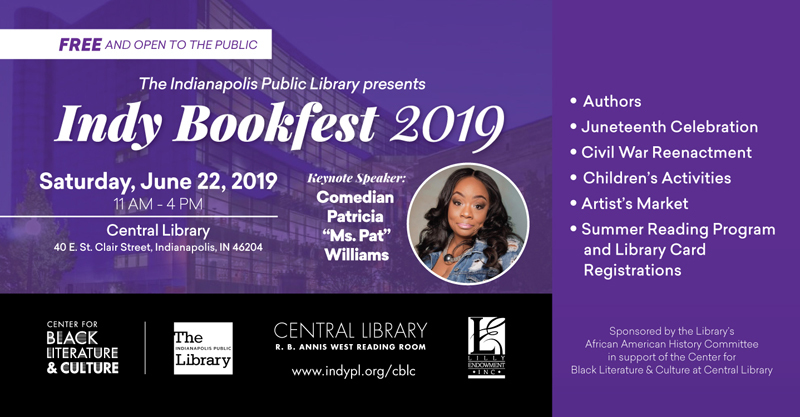 Highlights for the day include:
Keynote: Patricia "Ms. Pat" Williams (11:30 am, CBLC)
Patricia "Ms. Pat" Williams is a comedian, host of the podcast, ThePatdown with Ms. Pat, and author of Rabbit: the Autobiography of Ms. Pat in which Williams traces her youth in Atlanta's most troubled neighborhood at the height of the crack epidemic, discussing her experiences with petty crime and prostitution that led to her becoming a mother at age thirteen before resolving to secure a better life for her children. Ms. Pat's
Presenter: Dr. Anna-Lisa Cox (1:00 pm, Clowes Auditorium)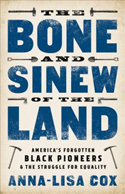 Award-winning historian Dr. Anna-Lisa Cox from Harvard's Hutchins Center and author of The Bone & Sinew of the Land will join Susan Hall-Dotson from the Indiana Historical Society in conversation about the Thanos-like power that historians have to erase people from the past, and the effect that has on our nation today.

Youth Writing Workshop: Tyra Seldon, Ph.D. (1:00 pm, Riley Meeting Room)
One of the most important ways we express our ideas and thoughts is through the writing process. Whether it is content for a rap, a poem, a short story, IG posts, texting, tweeting, snapchatting or even a book, understanding the art of storytelling is at the center of this engaging and fun-filled workshop. Registration is required and closes by June 20, 2019.
Indy Bookfest is sponsored by the Library's African American History Committee in support of the Center for Black Literature & Culture at Central Library.