In our last blog, we told the stories of some of our volunteers who were busy creating the community they want to live in by helping out at Indy Library Store in various ways. You can still join them!
Just weeks after that blog ran, we learned of a very special story about a family in our community who took it upon themselves to find a way to better the world—one book at a time—while teaching their young girls the importance of community participation. Read on for the details!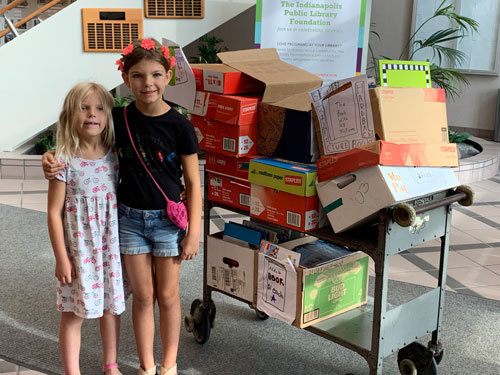 When you love reading, you want to share it with other people. At least that is part of the motivation for Charlotte and Lucille, and their older sister Qiana (not pictured), who recently raised $55 for the Indianapolis Public Library Foundation through a book sale they hosted at the Near North Farmer's Market, 1927 N. Alabama St. The family collected books to sell from their home library, as well as from other family and friends. Whatever didn't sell, they brought to Indy Library Store for us to add to our book sale!

The girls' mother, Jenny, said she and her partner enjoy finding meaningful activities for the girls to be involved in that support the community.