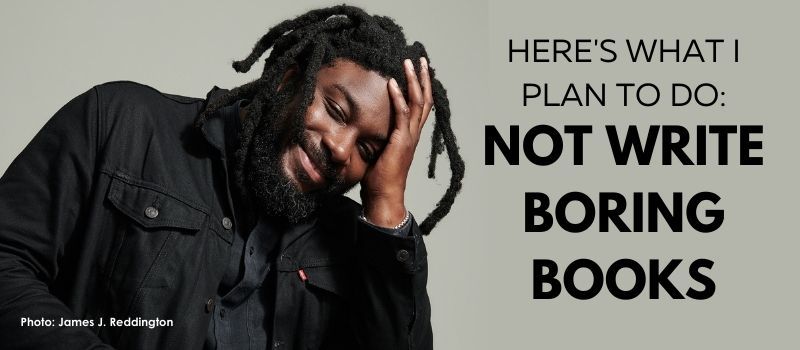 Save the date! October 27 at 6:30pm
This event will be live-streamed on IndyPL's YouTube and Facebook pages, and does not require any registration. If you would like to receive an email reminder before the event, click HERE. American Sign Language interpretation will be provided.
You are invited to an evening online with Jason Reynolds where he will discuss writing, life, race, family, and everything in between. Jason is the #1 New York Times bestselling author of numerous novels and poems for young people. He is a two-time National Book Award finalist; the recipient of a Newbery Honor, a Printz Honor, and multiple Coretta Scott King Honors; and the winner of a Kirkus Prize, two Walter Dean Myers Awards, and an NAACP Image Award, among many other honors. In addition, Reynolds was named the Library of Congress' National Ambassador for Young People's Literature in January, 2020.
Learn more about Jason on his website, where you can sign up to receive email news and updates, or follow him on Twitter, Instagram, and Facebook.
---
The evening discussion will be hosted by Ebony Marie Chappel. Ebony is an award-winning multimedia journalist, certified community health worker and currently works as Program & Communications Manager for Leadership Indianapolis. Ebony can be heard on the airwaves each Sunday morning where she hosts Open Lines, a community affairs show that airs at 8AM on both 106.7 WTLC and Hot 96.3 FM. She also launched an interactive talk-show, "What's Good? with Ebony Chappel" which airs on Facebook Live.
Made possible by The Library Fund, a fund of The Indianapolis Foundation through a grant to The Indianapolis Public Library Foundation.
---
Listen:
---
Watch: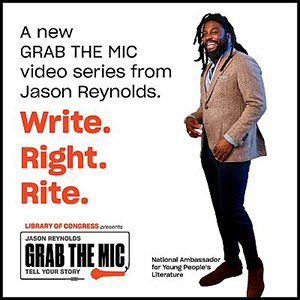 In this video series Jason shares his passion for storytelling while discussing topics like creativity, connection, and imagination. He ends each session by sharing a prompt or a question to help new writers brainstorm ideas and feel empowered to begin writing. Jason also publishes a newsletter for young writers called Grab the Mic.
---
Read:
If you have never used your IndyPL library card to borrow e-books or audiobooks from OverDrive or Axis360 before directions are available:
Need help? Call or ask a Library staff member at any of our locations or text a librarian at 317 333-6877.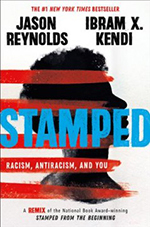 Stamped: Racism, Anti-Racism, and You (2020)
This book explores how racist ideas started, how they came to be woven into the fabric of our country, and how they can be discredited. See the publisher's Educator's Guide and Book Club Guide.
print | e-book (OverDrive) | audiobook (OverDrive) | e-book (Axis360) | audiobook (Axis360)


---
Look Both Ways: A Tale Told in Ten Blocks (2019)
"Jason Reynolds conjures ten tales (one per block) about what happens after the dismissal bell rings, and weaves them into one funny, poignant look at the detours we face on the walk home, and in life." See the publisher's Reading Group Guide.
print | e-book (OverDrive) | audiobook (OverDrive) | e-book (Axis360) | audiobook (Axis360)
---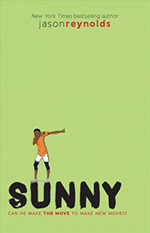 Sunny (2018)
"Sunny, the Defenders' best runner, only runs for his father, who blames Sunny for his mother's death, but with his coach's help Sunny finds a way to combine track and field with his true passion, dancing." See the publisher's Reading Group Guide.
print | e-book (Axis360) | audiobook (Axis360)
---
Lu (2018)
"Lu knows he can lead Ghost, Patina, Sunny, and the team to victory at the championships, but it might not be as easy as it seems. Suddenly, there are hurdles in Lu's way--literally and not-so-literally--and Lu needs to figure out, fast, what winning the gold really means." See the publisher's Reading Group Guide.
print | audiobook (Axis360)
---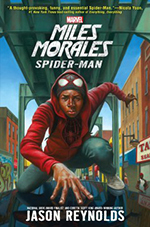 Miles Morales Spider-man (2017)
"Miles has a secret. He's actually Spider-Man. Well not THE Spider-Man but A Spider-Man. Pretty much the only Spider-Man in town now that Peter Parker is gone. Miles is doing his best to save every little old lady but it's getting to be too much. When Miles accidentally discovers a villainous teacher's plan to turn good kids bad, he will need to come to terms with his own destiny as the new SPIDER-MAN."
print | e-book (OverDrive) | audiobook (OverDrive) | e-book (Axis360) | audiobook (Axis360)

---
Long Way Down (2017)
"There are three rules in the neighborhood: Don't cry; Don't snitch; Get revenge. Will takes his dead brother Shawn's gun, and gets in the elevator on the 7th floor. As the elevator stops on each floor, someone connected to Shawn gets on. Someone already dead. Dead by teenage gun violence. And each has something to share with Will." See the publisher's Reading Group Guide.
print | e-book (OverDrive) | audiobook (OverDrive) | e-book (Axis360) | audiobook (Axis360)
---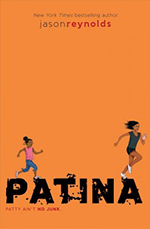 Patina (2017)
"A newbie to the track team, Patina "Patty" Jones must learn to rely on her family and teammates as she tries to outrun her personal demons." See the publisher's Reading Group Guide.
print | audiobook (Axis360)
---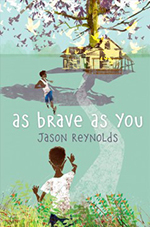 As Brave As You (2017)
"Eleven-year-old Genie develops a special bond with his grandfather when he and his brother travel from Brooklyn for a month-long stay with their grandparents in rural Virginia." See the publisher's Reading Group Guide.
print | audiobook (OverDrive) | e-book (Axis360) | audiobook (Axis360)
---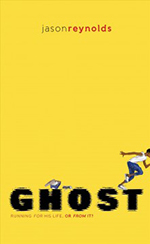 Ghost (2016)
"Ghost, a naturally talented runner and troublemaker, is recruited for an elite middle school track team. He must stay on track, literally and figuratively, to reach his full potential." See the publisher's Reading Group Guide.
print | e-book (OverDrive) | audiobook (OverDrive) | audiobook (Axis360)
---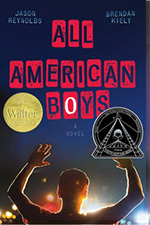 All American Boys (2015)
"When sixteen-year-old Rashad is mistakenly accused of stealing, classmate Quinn witnesses his brutal beating at the hands of a police officer who happens to be the older brother of his best friend. Told through Rashad and Quinn's alternating viewpoints." See the publisher's Reading Group Guide as well as the Discussion Guide from We Need Diverse Books.
print | e-book (OverDrive) | audiobook (OverDrive) | e-book (Axis360) | audiobook (Axis360)
---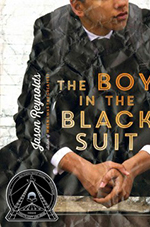 The Boy in the Black Suit (2015)
"Soon after his mother's death, Matt takes a job at a funeral home in his tough Brooklyn neighborhood and, while attending and assisting with funerals, begins to accept her death and his responsibilities as a man."
print | e-book (OverDrive) | audiobook (OverDrive) | e-book (Axis360)
---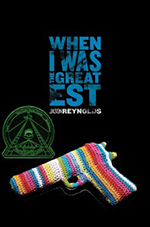 When I Was the Greatest (2014)
"Ali lives in Bed-Stuy, a Brooklyn neighborhood known for guns and drugs, but he and his sister, Jazz, and their neighbors, Needles and Noodles, stay out of trouble until they go to the wrong party, where one gets badly hurt and another leaves with a target on his back."
print | e-book (OverDrive) | audiobook (OverDrive) | e-book (Axis360) | audiobook (Axis360)
---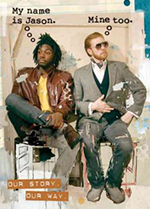 My Name Is Jason. Mine Too.: Our Story. Our Way (2009)
"Two young men named Jason, one black and one white, use poetry and art to communicate their different perspectives."
print

---
Learn more: