The Indianapolis Public Library and Indianapolis Public Library Foundation are pleased to present the 2019 Marian McFadden Memorial Lecture: A Moderated Conversation with Ta-Nehisi Coates.
Wednesday, May 8th at 7 p.m.
Clowes Memorial Hall of Butler University
Ta-Nehisi Coates is a distinguished writer in residence at NYU's Arthur L. Carter Journalism Institute. He is the author of the bestselling books The Beautiful Struggle, We Were Eight Years in Power, and Between The World And Me, which won the National Book Award in 2015. Ta-Nehisi is a recipient of a MacArthur Fellowship. He is also the current author of the Marvel comics The Black Panther and Captain America.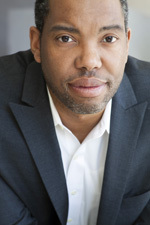 Tickets:
All tickets from the Butler Arts Center and Ticketmaster have been distributed.
Open seats will be released 15 minutes prior to the performance to patrons in line without tickets. Lines formed prior to 4 PM will not be honored.
Friends of the Library who have a ticket can access preferred seating at the event with their 2019 Friends of the Library card (two people per card). Friends of the Library will need a ticket in addition to their Friends card to access the preferred seating. It is a minimum $25 gift to receive a Friend of the Library card. To become a Friend of the Library, visit indyplfoundation.org/give or call 317-275-4700.
Book Sales:
Books will be available for purchase at the McFadden Lecture courtesy of the Butler University Bookstore.
Parking:
Butler University visitor & event parking information.