---
One Letter
Letter From a Birmingham Jail
You can read the text of the letter or listen to an audio from the Stanford Martin Luther King Jr. Research and Education Institute.
---
Six Books
Stride Toward Freedom: The Montgomery Story (1958) Dr. King's first book, it tells the story of the Montgomery Bus Boycott from the early strategic planning to pushback from the white community to the eventual success of establishing a desegregated city bus service. print | print | e-book (OverDrive) | audiobook (OverDrive)
The Measure of a Man (1959)
A collection of meditations and prayers written 10 years before the civil rights leader was assassinated. print
Strength to Love (1963)
This is a collection of Dr. King's iconic sermons. print | print | print
Why We Can't Wait (1963)
His argument for equality and an end to racial discrimination that explains why the civil rights struggle is vital to the United States. print | print | e-book (OverDrive) | audiobook (OverDrive) | audiobook CD
Where Do We Go From Here: Chaos or Community? (1967)
The book in which he outlines the trends in the African American struggle during the sixties, and calls for peaceful coexistence between the African American and white communities. print | e-book (OverDrive) | audiobook (OverDrive) | audiobook (CD)
The Trumpet of Conscience (1968)
A collection of five lectures from 1967 that address racial equality, conscience and war, the mobilization of young people, and nonviolence. print | e-book (OverDrive)
---
Visit the Center for Black Literature & Culture at Central Library
Dr. King's books and many more can be found at the Center for Black Literature & Culture (CBLC), a space at Central Library dedicated to celebrating the vibrant and resilient heritage and triumphs of those born of African roots. The CBLC's collection includes specially selected literature, music, movies, and artwork highlighting the contributions of black icons, specifically those with Indiana roots.

---
The Racial Equity Collection
The Racial Equity Collection makes it easier than ever for Library patrons to access antiracism and social justice resources. The Library purchased thousands of new materials including books, e-books, audiobooks, DVDs, and Blu-rays. The materials span a wide range of genres, with titles suited for children, teens, and adults. See the collection online here.
---
Join the #WakeUpIndy Challenge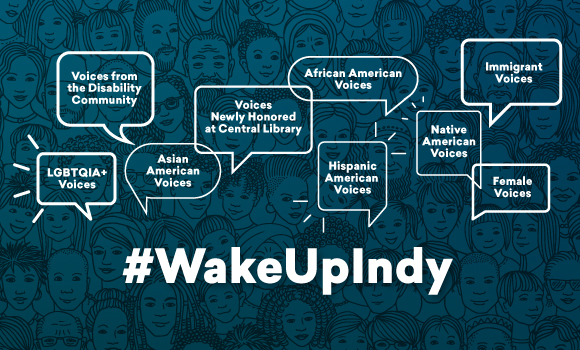 #WakeUpIndy is an all ages community reading challenge to read books that raise awareness about racial and social injustices written by #diverseauthors, especially those who share a marginalized identity with their characters. This challenge is a call to educate ourselves and commit to reading books with voices and viewpoints different from our own. Set your own goals. Read at your own pace. Learn more about #WakeUpIndy, here.