Meet the Artists, a celebration highlighting the work of local African American creatives, brings more than 1500 guests to Central Library each year. The event, which traditionally consists of a single-night gala of music, workshops, and fashion plus month-long exhibits, wouldn't be possible without the visionary leadership of IndyPL's artist-in-residence Anthony "Tony" Radford.
Radford, a mixed-media artist, curator, and art instructor, started working for The Library at the age of 19. His desire to share his artistic creations and the work of other talented Black artists in Indianapolis led him to pitch the idea for an art show to the Library's African American History Committee in 1988. As Meet the Artists celebrates its 33rd year virtually, we'll look back on Radford's story and reflect on what this event means to the arts community.
Humble Beginnings
Radford grew up on the east side of Indianapolis. As a child, he'd roam alleyways and collect items to repurpose. Then, he'd rally siblings and neighborhood friends to work on creative projects.
"We didn't have computers and all that stuff, so we had to actually make and build. I grew up in an era where we would build treehouses, go-karts, and things like that. I'd lay out the plan, and they knew what we were gonna do that day."
At the age of 19, Radford started working for The Library's Books-To-People program, a federally-funded project that shared the Libraries services with people who lived in the inner-city. He'd visit nursing homes, barbershops, shopping centers, and festivals to encourage Indianapolis residents to sign up for a Library card. He loved interacting with the community, but in the midst of a harsh winter, he found himself spending more of his free time indoors.
"I watched my gram' knit and watch her stories, but that wasn't my cup of tea, so I went to a craft store and started making jewelry as a hobby," Radford said.
His fashion-forward creations reignited his creative spark and caught his mother's attention. She became his biggest promoter, selling his wares to friends. Soon, Radford received permission from the Library to sell his jewelry during lunch breaks at work. When he decided to enter an art show at the Indiana State Fair, he was surprised to claim both first and second place prizes.
"I made a sea scene with bones and chess pieces made of bones and wood," said Radford. "An Ohio State University art professor wrote me a letter telling me how much she liked it. She wanted to purchase it. After winning both first and second place, a $300 check, and having an art professor interested in my work, I decided I was an artist."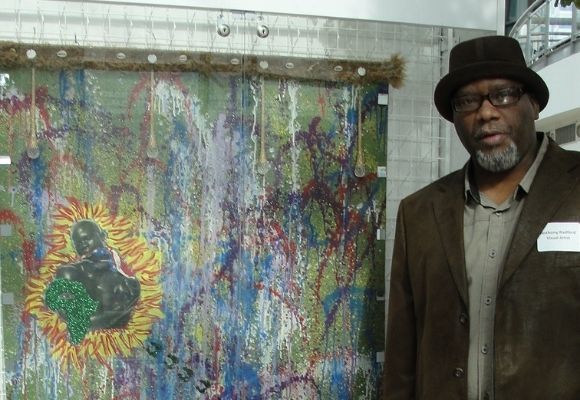 Community Connections
Radford started frequenting art galleries to connect with the local artists. He befriended the owners of a gallery on Mass Ave who introduced him to the Indianapolis arts scene, but quickly realized few venues were made with artists of color in mind.
"I realized there were very few Black galleries or people who look like me," said Radford. "I will never forget when I was at The Library; I saw the work of an artist named Joe Holiday. He was a local Black artist, and I didn't know a lot of Black artists. His work blew me away because he painted everyday ordinary Black folks and African kings and queens. His colors were brilliant, his framing was great, and I was inspired. The thing is, Joe's work was at The Library for Black History Month, but there was nothing about him on the news or in the newspaper. So I said 'let's change that narrative and do a show.'"
Radford pitched the idea of an art show that featured Black artists to the African American History Committee, a team that works to present the diverse accomplishments and heritage of African Americans to the general public. They loved the idea and allowed him to take the reins on putting the event together. Radford found 11 artists, a jazz band, and provided food and refreshments. The event was a hit, and the committee wanted to plan another for the following year. Meet the Artists continues to grow annually, allowing Black artists, poets, dancers, authors, and musicians a place to celebrate their creative culture.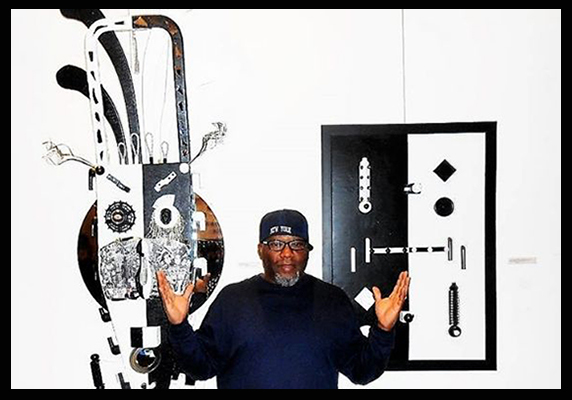 Giving Back
Radford has spent a lot of time mentoring young creatives. In addition to giving youth the opportunity to show their work during Meet the Artists, he has worked with the Indianapolis Art Center's outreach programs and Arts for Learning.
"It's important to me because we don't have a lot of venues, and kids don't see artists or performers that look like me. I've been all over doing workshops, helping with summer reading. It's important for kids to see someone like me doing different things. Not just African American kids, but all kids."
Radford says aspiring artists can get plugged in by reaching out to him or Library partners that support the arts. Even though Meet the Artists is virtual this year, he's thankful that the community has shown support.
"Indy's not a huge cultural town. We focus on sports. For artists of color, we don't have a lot of venues and what we had is gone. Meet the Artists is one of the biggest and largest venues that support artists of color in the state. We've had bad weather, renovations, a pandemic, but we've never stopped Meet the Artists. It's important to support."
Learn more at 2021 Meet the Artists XXXIII.
By: Keshia McEntire, Public Relations Specialist, Indianapolis Public Library