The National Day of Racial Healing (NDORH) is on the Tuesday after Martin Luther King Jr. Day. It is an opportunity for all of us, because we live in a racialized world, to recognize and acknowledge wrongs that have detrimental consequences. Racial healing is about repairing that damage and creating a more just and equitable world.
Here are a few books suggestions for for all ages with themes that can spark conversation about racial healing. Together, we can bridge divides to transform our community for our children and future generations. By: IndyPL_ChrisH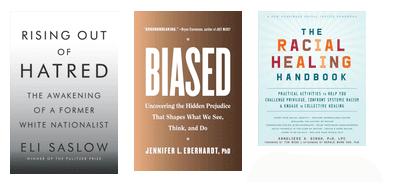 More Resources for Talking About Race:
The National Day of Racial Healing has made available online action kits specifically designed for individuals and community groups. You can choose from the following: For Everyone, Students, Teachers, Philanthropy, Libraries, Faith & Spiritual Ambassadors, and Business Leaders.
Talking About Race is an online portal from the National Museum of African American History & Culture designed to help individuals, families, and communities talk about racism, racial identity and the way these forces shape every aspect of society, from the economy and politics to the broader American culture. The online portal provides digital tools, online exercises, video instructions, scholarly articles and more than 100 multi-media resources tailored for educators, parents and caregivers—and individuals committed to racial equality.
EmbraceRace supports parents to raise children who are brave, informed and thoughtful about race. Their site has a variety of articles for parents and caregivers.
WeNeedDiverseBooks has compiled resources from members of their community on race, equity, anti-racism, and inclusion. They offer an extensive list of resources for children, teens and adults including book recommendations, links to online articles, and a list of black owned book stores by state.