Photo by Karen Kuehn
The Library of Congress has appointed a National Poet Laureate since 1937 to raise awareness and appreciation for the reading and writing of poetry. If you have not already, treat yourself to the work of our current National Laureate, musician and writer Joy Harjo of the Muscogee (Creek) Nation, especially her new book, Poet Warrior A Memoir.
Originally appointed in 2019, Harjo was appointed to both a second and third term in order to complete her Laureate project called Living Nations, Living Words. You can enjoy her project, which features 47 Native Nations poets, online at The Library of Congress, or check out a print or e-book copy of the collected anthology with your IndyPL Library card. "As the first Native U.S. Poet Laureate, I decided that my signature project should introduce the country to the many Native poets who live in these lands."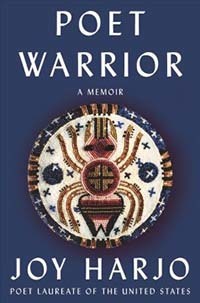 Listen to this NPR Fresh Air with Terry Gross interview from September 7, 2021, during which Harjo talks about her latest book, Poet Warrior A Memoir. Take note of minute 5:15 when Joy reads an untitled piece of poetry from the book. It's relevant and beautiful and her voice makes it all the better. If you prefer, you can read the transcript here.

A multi-talented artist and performer, Harjo's work includes painting and music as well as poetry. You can listen to 8 recordings of Joy reading her own work by visiting Joy Harjo 101 from The Poetry Foundation. Her most recent album of original music is her March 5, 2021 release, I Pray for My Enemies. You can sample this recent work on music platforms like Spotify, Pandora, or YouTube. A great introduction to the artist and her music is this October 16, 2020 Shelter in Place performance.
Get to know her even more in this video for children in which she reads one of her poems aloud, gives kids writing ideas for writing their own poems and answers several questions about writing, including the kinds of things that inspire her to write. For her, poetry is "singing on paper." Beautiful.
While appearing on Super Soul Sunday with Oprah Winfrey, Harjo described listening to a multicultural poetry gathering and the moment she realized that poetry was not only something to read, but something she herself could write. She shared, "It was the first time I had heard native poets and I thought, wow we can write about our lives and that can be in poetry, and I loved poetry before that, but I switched [poetry] to something that I admired from a distance to something I could participate in." See our full catalog listing of Harjo's work here.