The Library of Congress has appointed a National Poet Laureate since 1937 to raise awareness and appreciation for the reading and writing of poetry. If you have not already, treat yourself to the work of our current National Laureate, musician and writer Joy Harjo of the Muscogee (Creek) Nation.
Harjo is the author of numerous books of poetry, including An American Sunrise and the memoir Crazy Brave. You also might find illuminating Soul Talk, Song Language Conversations with Joy Harjo which includes interviews and other articles featuring Harjo. See our full catalog listing of her work here.
A multi-talented artist and performer, Harjo's work includes painting and music as well as poetry. You can listen to 8 recordings of Joy reading her own work by visiting Joy Harjo 101 from The Poetry Foundation. Her most recent album of original music is her March 5, 2021 release, I Pray for My Enemies. You can sample this recent work on music platforms like Spotify, Pandora, or YouTube. A great introduction to the artist and her music is this October 16, 2020 Shelter in Place performance below.
Get to know her even more in this video for children in which she reads one of her poems aloud, gives kids writing ideas for writing their own poems and answers several questions about writing, including the kinds of things that inspire her to write. For her, poetry is "singing on paper." Beautiful.
While appearing on Super Soul Sunday with Oprah Winfrey, Harjo described listening to a multicultural poetry gathering and the moment she realized that poetry was not only something to read, but something she herself could write. She shared, "It was the first time I had heard native poets and I thought, wow we can write about our lives and that can be in poetry, and I loved poetry before that, but I switched [poetry] to something that I admired from a distance to something I could participate in."

Have you ever had an experience like that after reading or listening to poetry and wondered if you could write poetry yourself? We invite you to register for our upcoming online class, Writing with Power and Verve: Imagery and Poetry on Saturday, April 10 at 1:00 pm. During this session you will have the opportunity to write your own poems with the help of guided prompts and hands-on activities that will help you explore effective imagery and how to craft images that will connect with readers. The class will be led by Langston Hughes Award winner, Callista Buchen.

In celebration of National Poetry Month we are also offering poetry writing workshops for kids and teens.
Playdate with a Book
Wednesday, April 7 at 3:00 pm Register In honor of National Poetry Month we will host a special "Playdate with Poetry." Create your very own acrostic poems! This event is being held as an online meeting/webinar. You will be emailed login instructions approximately 24 hours before the event.
Unlearn Poetry Workshop for Kids
Saturday, April 17: 11:00a am Register
Join us in this free session led by Chantel Massey, kids will experiment with poetry as a way to find their voice. No grades, no pressure, just get ready to create at your own pace! This workshop is through Arts for Learning, The Indiana Affiliate of Young Audiences.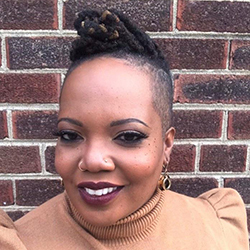 Poetry and Mindfulness Workshop for Kids
Saturday, April 24: 11:00 am Register
In this workshop led by Manon Voice, you will engage with the artist in an activity to explore mindfulness, responding to music and art. You will create poetry that explores both their inner and outer worlds. Program is through Arts for Learning, The Indiana Affiliate of Young Audiences