To find audiobook titles I use OverDrive on the Library's website. At the top of the the Library's website, go to the navigation in the blue bar and click on e-Books & Streaming. Scroll down to choose OverDrive/Libby. If you prefer, you can also use the OverDrive/Libby app from the App Store or Google Play. If you would like helping getting started see these OverDrive website directions, Libby app directions, or watch this video tutorial.

Once on the OverDrive website I click on subjects in the upper left. Then I scroll down to see the Nonfiction list of subjects. I choose Biography & Autobiography. Some of these lists will be large—10,000+. In the upper right corner you can choose to sort your results. I do sort the results by date added so that I can see the most recently added titles.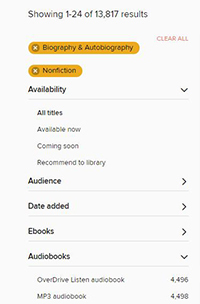 Once you see the list of books, you will see several choices for narrowing down those results on the left side. Since I am just looking for audiobook titles I click on the arrow beside the word "Audiobook." I choose OverDrive Listen audiobook. I browse the results and either check-out available materials or place holds.



Tip: You can also narrow down your results to show only available titles, which is perfect if you need an audiobook to listen to right away. Click on the arrow beside the word "Availability." Choose "Available now."
I often get asked how I get through so many eAudiobooks in a month. The Libby app makes the books so portable. I can carry my phone around while I am walking the dogs, cleaning my house or making dinner.
Tip: Another feature I take advantage of is speeding up the playback speed to 1.25 or 1.50 so that I can listen just little bit faster. This can be done using the dial found at the top of the display. Just tap on the dial and adjust to the speed you like.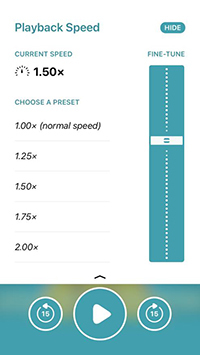 When I am finished listening to an audiobook, I return it right away, giving someone else the chance to check it out.

I do NOT finish all the audiobooks I start. Sometimes I do not like the narrator and realize there is no way I will be able to listen to them read an 8-hour book. Sometimes the book is not exactly what I thought it would be, so I return it. Or sometimes I might just not be in the mood for a particular title.
Tip: Use the "tag" feature on the Libby app to keep track of interesting titles you might want to listen to later. I use it like the paper list of titles I used to carry in my purse.

I am the author of many "Listen with Liz" monthly audiobook lists in the Library's catalog. These lists include totally random nonfiction titles that I have listened to. My favorite books are memoirs, but if you prefer fiction or mystery the Library has plenty of those available through Overdrive/Libby too.
Need more help? Ask a Library staff member at any of our locations or call, text or email Ask-a-Librarian. We are here to help you find what you need and make the most of Library resources!
Find out more about all the digital borrowing options available from IndyPL.
This Tinker Station blog post was contributed by Elizabeth "Liz" Schoettle, a Supervising Librarian at Central Library. Liz has always been a voracious reader mostly of fiction titles but within the last few years her tastes have shifted to nonfiction and the convenience and ease of first Audiobooks in the car and now e-Audiobooks.