Are you interested in learning about racism and racial equity? It is a complex and painful topic, so the prospect can seem daunting at first. But if we are willing to find out what we don't know (or what we think we know), there are Library resources like articles, books, webinars, and videos to help us begin. There isn't just one article, one book, or one author that has all the answers, but by looking at some of the resources listed here you can start to uncover key concepts, vocabulary, history, and perspective to get started.
Given the national attention on the topic lately, some publishers and content providers are making some high-demand content freely available with no waitlists. Below are several notable resources and their availability:
---
No Wait Listening on Spotify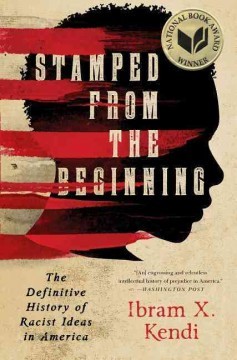 The audiobook Stamped from the Beginning - The Definitive History of Racist Ideas in America by Ibram X. Kendi is currently available for free on Spotify, a music and podcast platform/app that does not require a Library card. The book was winner of the 2016 National Book Award for Nonfiction, a New York Times Bestseller, a Washington Post Bestseller, and named one of the Best Books of the Year by the Boston Globe, Washington Post, and Chicago Review of Books.
Available now - no announcement of end date at this time.
Note that there is an adaptation of this book, intended for young adults, titled Stamped: Racism, Antiracism, and You by Jason Reynolds and Ibram X. Kendi. Reynolds and Kendi collaborated on this version to help explain these complex concepts to young people. It is available as an e-book through the Library.
---
No Wait Streaming Video
Use your Library card to instantly stream documentaries and videos focused on social and systemic injustice and racism in America on Kanopy. Titles include I Am Not Your Negro, P.S. I Can't Breathe, White Like Me - Race, Racism, and White Privilege in America, Race: The Power of an Illusion, and more. You can also stream movies from the Hoopla category Black Lives Matter. Titles include Maya Angelou And Still I Rise and Just Mercy.

If you have never used your IndyPL library card to from Kanopy or Hoopla, directions are available:

Additionally, for video content check out these TED talks to help you understand racism in America.

---
Booklists and Reading Recommendations from IndyPL

---
Additional Lists and Resources

The National Museum of African American History & Culture's Talking About Race Portal provides "tools and guidance to empower your journey and inspire conversation." It is broken up into three online modules for different audiences: I am an Educator, I am a Parent or Caregiver, and I am a Person Committed to Equity. The modules include embedded videos, diagrams, and question prompts to help illustrate and support the processing of complex ideas.

---
You also might find helpful this list from NPR's Code Switch which includes both films and podcasts in addition to books. Code Switch is a multi-racial, multi-generational team of NPR journalists who cover race and identity. The Code Switch list is called This List Of Books, Films And Podcasts About Racism Is A Start, Not A Panacea.

---
Also, consider a visit to the Center for Black Literature & Culture at Central Library. The CBLC is dedicated to celebrating the vibrant and resilient heritage and triumphs of those born of African roots. This space is for all who are interested in exploring the rich heritage that has influenced nations across the globe.