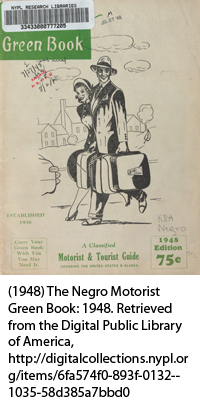 The Green Book, a travel guide, was published by Victor H. Green, a New York postal worker, between 1936 – 1966. The sample on the left is from 1948. The Green Book guides included a list of accommodations, restaurants, and other businesses that were willing to serve travelers of color. The sample page on the right is the listing for Indianapolis in 1948.
Prior to the Civil Rights Act of 1964, this type of guide was indispensable for people of color if they wanted to locate welcoming places to stop for food, sleep, or purchase gasoline for their vehicles while traveling on the road. Up until 1964, essentially, if you were African American and wanted to travel to another town or state for work, to visit your family, of for any other aspiration, you probably owned a copy of The Negro Motorist Green Book or The Green Book. You couldn't simply grab a map, load up the old Ford, and hightail it out of town on the open road. No, you had to plan your trip accordingly utilizing the safest known routes for a person of color.
Along the way, you also had to be mindful of 'Sundown Towns' otherwise you'd find yourself in a serious predicament that would be highly unlikely to end in your favor. Sundown Towns were predominantly white communities implementing local discriminatory rules or laws preventing non-whites from visiting and living in a specific town after nightfall. Enforcement of these laws and rules consisted of, but were not limited to, blatant intimidation and out-and-out violence.
If you're not familiar with Sundown Towns or just want to learn more about the 'Green Book', you can:
Delve into actual copies of The Green Book for Motorists online at the Digital Public Library of America: The Negro Motorist Green Book 1937 - 1951.
Look at the list below to find books, both fiction and non-fiction, about families of color and their travels before 1964.
Additionally, as part of the IndyPL Lawrence Branch 2019 Travel, History, and Popular Culture Series, the movie "Green Book" will be shown on Tuesday, April 2, 2019 at 10:15 am.

Other Resources: