---
What makes a book "woke?"
#WakeUpIndy was inspired by Read Woke, a program originally created by Cicely Lewis, a teacher, writer, librarian and Person of Color at the Meadowcreek High School Media Center in Norcross, Georgia. Lewis was recently named School Library Journal's 2020 School Librarian of the Year. The #ReadWoke movement is an international phenomenon among educators.
In Lewis' words: "Read Woke is a movement. It is a feeling. It is a style. It is a form of education. It is a call to action; it is our right as lifelong learners. It means arming yourself with knowledge in order to better protect your rights. Knowledge is power and no one can take it away. It means learning about others so that you can treat people with the respect and dignity that they deserve no matter their religion, race, creed, or color."

Cicely Lewis determined that a "woke book" must do at least one of five things:
Challenge a social norm
Give voice to the voiceless
Provide information about a group that has been disenfranchised
Seek to challenge the status quo
Have a protagonist from an underrepresented or oppressed group
---
Get Started Reading:
In the School Library Journal article, Welcome to "Read Woke," Lewis shared four of her "woke book" selections which are also a great place to start! Read her thoughts on why she chose these four titles here.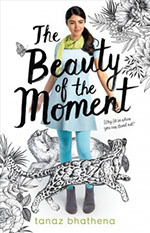 The Beauty of the Moment by Tanaz Bhathena
"Sixteen-year-old Susan is the new girl in her Canadian high school, striving to meet her parents' academic expectations, missing the friends she left behind in Saudi Arabia, dreaming of pursuing her passion for art, and secretly meeting with troublemaker Malcolm."
print | e-book (OverDrive)
---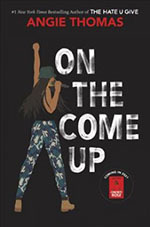 On the Come Up by Angie Thomas
"As the daughter of an underground hip hop legend who died right before he hit big, Bri wants to be one of the greatest rappers of all time-- and has massive shoes to fill. She's been labeled a hoodlum at school, and the fridge at home is empty after her mom loses her job. So Bri pours her anger and frustration into her first song, which goes viral -- for all the wrong reasons. Portrayed by the media as a menace, Bri makes a choice-- and becomes the very thing the public has made her out to be. The odds are stacked against her, and freedom of speech isn't always free."
print | e-book (OverDrive) | audiobook (OverDrive) | e-book (Axis360) | audiobook (Axis360)
---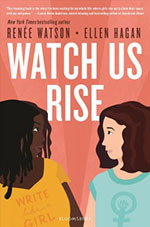 Watch Us Rise by Renée Watson and Ellen Hagan
"Jasmine and Chelsea are best friends on a mission--they're sick of the way women are treated even at their progressive NYC high school, so they decide to start a Women's Rights Club. They post their work online--poems, essays, videos of Chelsea performing her poetry, and Jasmine's response to the racial microaggressions she experiences--and soon they go viral. But with such positive support, the club is also targeted by trolls. When things escalate in real life, the principal shuts the club down. Not willing to be silenced, Jasmine and Chelsea will risk everything for their voices--and those of other young women--to be heard. These two dynamic, creative young women stand up and speak out in a novel that features their compelling art and poetry along with powerful personal journeys that will inspire readers and budding poets, feminists, and activist."
print | e-book (OverDrive)| e-book (Axis360) | audiobook (Axis360)
---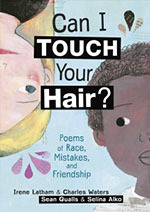 Can I Touch Your Hair? Poems of Race, Mistakes and Friendship by Irene Latham and Charles Waters
"Irene Latham, who is white, and Charles Waters, who is black, present paired poems about topics including family dinners, sports, recess, and much more. This relatable collection explores different experiences of race in America."
print | e-book (OverDrive) | audiobook (OverDrive)