Andrew's Picks So Far:
Use your indyPL Library Card to check out books at any of our locations, or check out e-books and e-audiobooks from home right to your device. Click on a book jacket below to request a book or download it. Need help? Call or ask a Library staff member at any of our locations or text a librarian at 317 333-6877.
April 2019 Pick: It's Trevor Noah Stories from a South African Childhood by Trevor Noah
The host of The Daily Show, Trevor Noah, tells the story of growing up half black, half white in South Africa under and after apartheid in this young readers' adaptation of his bestselling adult memoir Born a Crime: Stories from a South African Childhood.
---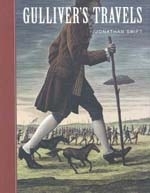 March 2019 Pick: Gulliver's Travels by Jonathan Swift
The voyages of an Englishman carry him to such places as Liliput, where the people are only six inches tall, Brobdingnag, a land of giants, and a country ruled by horses.
---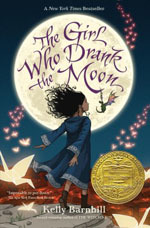 February 2019 Pick: The Girl Who Drank the Moon by Kelly Barnhill
An epic fantasy about a young girl raised by a witch, a swamp monster, and a Perfectly Tiny Dragon, who must unlock the powerful magic buried deep inside her.
---
January 2019 Pick: The Jungle Book by Rudyard Kipling
The adventures of Mowgli, the boy reared by a pack of wolves in an Indian jungle. Includes songs of the animals.
---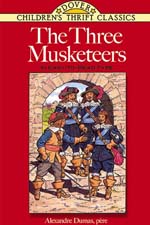 December 2018 Pick: The Three Musketeers by Alexandre Dumas
An adaptation of Alexandre Dumas' classic tale of seventeenth-century France, when young D'Artagnan initially quarrels with, then befriends, three musketeers and joins them in trying to outwit the enemies of the king and queen.
---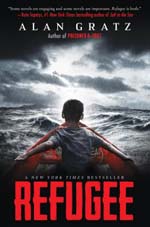 November 2018 Pick: Refugee by Alan Gratz
Although separated by continents and decades, Josef, a Jewish boy living in 1930s Nazi Germany; Isabel, a Cuban girl trying to escape the riots and unrest plaguing her country in 1994; and Mahmoud, a Syrian boy in 2015 whose homeland is torn apart by violence and destruction, embark on harrowing journeys in search of refuge, discovering shocking connections that tie their stories together
---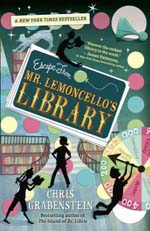 October 2018 Pick: Escape from Mr. Lemoncello's Library by Chris Grabenstein
Twelve-year-old Kyle gets to stay overnight in the new town library, designed by his hero (the famous gamemaker Luigi Lemoncello), with other students but finds that come morning he must work with friends to solve puzzles in order to escape.
---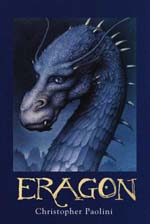 September 2018 Pick: Eragon by Christopher Paolini
In Aagaesia, a fifteen-year-old boy of unknown lineage called Eragon finds a mysterious stone that weaves his life into an intricate tapestry of destiny, magic, and power, peopled with dragons, elves, and monsters.
---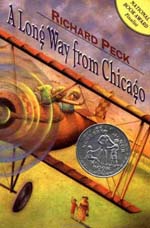 August 2018 Pick: A Long Way from Chicago by Richard Peck
A boy recounts his annual summer trips to rural Illinois with his sister during the Great Depression to visit their larger-than-life grandmother.
---
July 2018 Pick: From the Mixed-Up Files of Mrs. Basil E. Frankweiler by E.L. Konigsburg
Having run away with her younger brother to live in the Metropolitan Museum of Art, twelve-year-old Claudia strives to keep things in order in their new home and to become a changed person and a heroine to herself.
---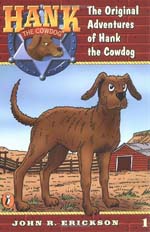 June 2018 Pick: The Original Adventures of Hank the Cow Dog by John R. Erickson
Hank the Cowdog, Head of Ranch Security, is framed for the murder of a chicken and becomes an outlaw with the coyotes.
---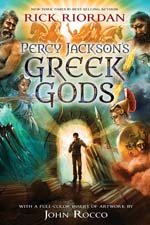 May 2018 Pick: Percy Jackson's Greek Gods by Rick Riordan
Percy Jackson, a modern-day demigod, tells the origin stories of the gods of Olympus and provides an insider's point of view - with plenty of attitude - in this illustrated collection.
---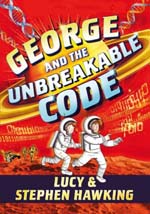 April 2018 Pick: George and the Unbreakable Code by Lucy & Stephen Hawking
George and Annie must travel further into space than ever before in order to prevent all computers from being hacked.
---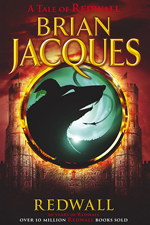 Redwall by Brian Jacques
The hero of this enthralling tale is Matthias, a young mouse who must rise above his fears and failures to save his friends at Redwall Abbey.
---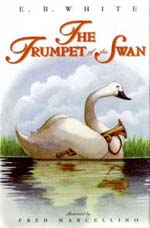 The Trumpet of the Swan by E.B. White
Louis, a voiceless Trumpeter swan, finds himself far from his wilderness home when he determines to communicate by learning to play a stolen trumpet.
---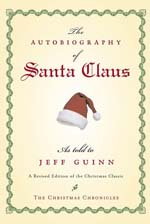 The Autobiography of Santa Claus by Jeff Guinn
This story of St. Nicholas is based on historical facts and laced with the magic of legend told from the perspective of Santa himself. It is filled with details of Nicholas's life, the beginnings of his gift giving, the expansion of his holiday calling, and more.
Andrew: Why I Chose This Book
---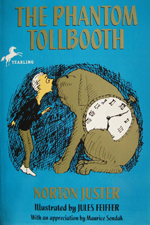 The Phantom Tollbooth by Norton Jester
A journey through a land where Milo learns the importance of words and numbers provides a cure for his boredom.
Andrew: Why I Chose This Book
---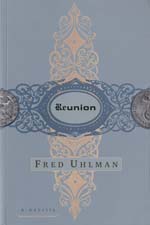 Reunion by Fred Uhlman
The story of two teenagers, Hans and Conrad, whose profound friendship is pulled apart by the Nazi regime and its toxic ideas.
---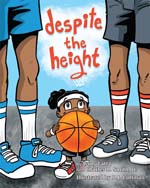 Despite the Height by Ivory Latta
The true story of Ivory Latta, one of the smallest women to play for the WNBA. Follow young Ivory as she learns to play basketball, perfect her game, and outplay her big brothers – all despite her height.
Andrew: Why I Chose This Book
---
Wonder by R.J. Palacio
Ten-year-old Auggie Pullman, who was born with extreme facial abnormalities and was not expected to survive, goes from being home-schooled to entering fifth grade at a private middle school in Manhattan, which entails enduring the taunting and fear of his classmates as he struggles to be seen as just another student. Young Hoosier Book Award, 2014-2015, 4-6 Nominee.
Andrew: Why I Chose This Book
---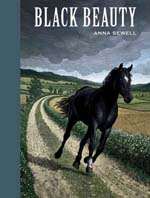 Black Beauty by Anna Sewell
A horse in nineteenth-century England recounts his experiences with both good and bad masters.
Andrew: Why I Chose This Book
---
Where the Sidewalk Ends by Shel Silverstein
A boy who turns into a TV set and a girl who eats a whale are only two of the characters in a collection of humorous poetry illustrated with the author's own drawings.
Andrew: Why I Chose This Book
---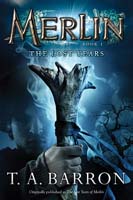 The Lost Years of Merlin by T.A. Barron
A young boy who has no identity nor memory of his past washes ashore on the coast of Wales and finds his true name after a series of fantastic adventures.
Andrew: Why I Chose This Book
---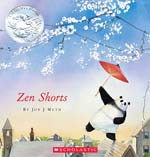 Zen Shorts by Jon J. Muth
When Stillwater, a giant panda, moves into the neighborhood, the stories he tells to three siblings teach them to look at the world in new ways. To Addie he tells a story about the value of material goods. To Michael he pushes the boundaries of good and bad. And to Karl he demonstrates what it means to hold on to frustration.
Andrew: Why I Chose This Book
---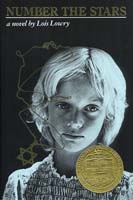 Number the Stars by Lois Lowry
In 1943, during the German occupation of Denmark, ten-year-old Annemarie learns how to be brave and courageous when she helps shelter her Jewish friend from the Nazis. Newbery Medal winner, 1990.
Andrew: Why I Chose This Book
---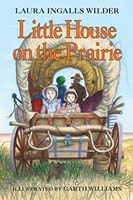 Little House on the Prairie by Laura Ingalls Wilder
Pa's homestead thrives, Laura gets her first job in town, blackbirds eat the corn and oats crops, Mary goes to college, and Laura gets into trouble at school, but becomes a certified school teacher.
Andrew: Why I Chose This Book
---
The Lion, the Witch and the Wardrobe by C.S. Lewis
Four English schoolchildren find their way through the back of a wardrobe into the magic land of Narnia and assist Aslan, the golden lion, to triumph over the White Witch, who has cursed the land with eternal winter.
Andrew: Why I Chose This Book
---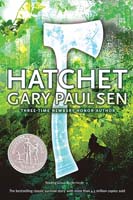 Hatchet by Gary Paulsen
After a plane crash, thirteen-year-old Brian spends fifty-four days in the wilderness, learning to survive with only the aid of a hatchet given him by his mother, and learning also to survive his parents' divorce.
Andrew: Why I Chose This Book
---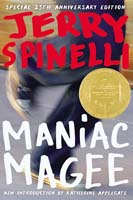 Maniac Magee by Jerry Spinelli
After his parents die, Jeffrey Lionel Magee's life becomes legendary, as he accomplishes athletic and other feats which awe his contemporaries. Newbery Medal winner, 1991
Andrew: Why I Chose This Book