The Indianapolis Public Library has an online collection of digital images that will give you a good look at black history in America and right here in Indiana. These artifacts are the real thing. The collection includes photographs, photographs of artifacts and documents which would be great resources for school reports.
---
Artifacts at The Children's Museum of Indianapolis - The Children's Musuem of Indianapolis selected 1,000 artifacts from their collection to feature in this online image collection. The objects would be good for Social Studies, Science and Geography homework. Many of the objects have a tie to Indiana. Take a look at the African-American artifacts.
---
African American Firefighters Collection - This is a collection of photographs and artifacts that document the history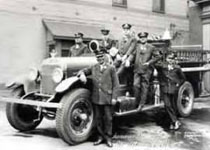 of African American Firefighters in Indianapolis. On May 19, 1876 Fire Chief W. O. Sherwood appointed the first black men to the Indianapolis Fire Department on Hose Company 9, located at 31 West Saint Joseph Street. This station, eventually renumbered as Station 1 and relocated to 441 Indiana Avenue, grew to become an all-black double company firehouse, with approximately 24 firefighters who rotated through two 24-hour shifts.
Black firefighters remained segregated from the rest of the Fire Department until the practice was officially ended on Jan. 1, 1960. Hired before integration in 1955, Joseph Kimbrew became the first black Fire Chief of the Indianapolis Fire Department on January 19, 1987.
---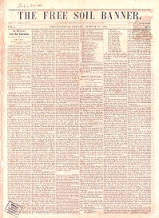 Free Soil Banner - This is a collection of old newspapers you can read online. The Free Soil Banner was a newspaper in Indianapolis from 1848 to 1854 published by the Free Soil Party. The Free Soil Party thought that slavery should not be extended to the territories newly gained in the war with Mexico, but should be "free soil", worked by free (as opposed to slave) labor. They stopped short at advocating the abolition of slavery, preferring to contain it to the areas where it was already allowed, believing that it would eventually die out. "Free soil, free speech, free labor, free men."
---
Another really stunning photo collection you can see online is at the National Museum of African American History & Culture. You can explore their full collection online by topic:
---
To learn even more about fascinating and inspiring black history makers, visit the Center for Black Literature & Culture at Central Library. The Center is dedicated to celebrating the vibrant and resilient heritage and triumphs of those born of African roots.


"To get young people engaged, one of the things they need is to see themselves in books. It is important for all of us to see ourselves in books, because that encourages us to read in a different way and encourages us to write more." ~ Dr. Jerrie Cobb Scott Founder of the African American Read-in #weneeddiversebooks