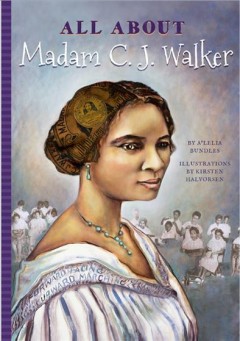 Madam C. J. Walker is recognized as America's first female self-made millionaire. Walker made her fortune inventing and selling beauty and hair products for black women through her company, Madam C.J. Walker Manufacturing Company. Here are two contributions from African American inventors. Both are Artifacts at The Children's Museum of Indianapolis.
Madam C.J. Walker's Wonderful Hair Grower Sarah Breedlove Walker, better known as Madam C.J. Walker, was a central figure in the development of the African-American market for commercial beauty products.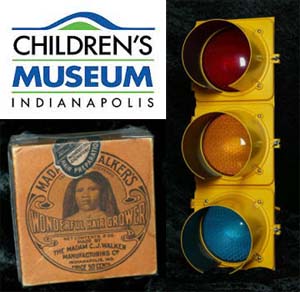 She developed a formula for hair growth and a steel straightening comb and ointment. Starting with door-to-door sales of these products, she built a business empire. Not only did the business bring her personal success, but it also opened up new job opportunities for African-American women as sales agents and Beauty Culturists.
Traffic Signal - Garrett Morgan worked to bring order to busy streets. In 1922 he observed an accident. After seeing the confusion, Morgan improved the stationary Stop and Go lights by adding a warning pause so that drivers knew the light was about to change. An African American, Morgan had difficulty promoting his ideas.
---
Websites, Activities & Printables: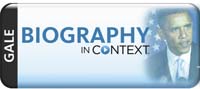 Biography in Context is a database you can use in any IndyPL Library Branch or at home. Login using your library card number. Biography in Context will show you biographies, magazines, videos and more about African American scientists and inventors.
---
Books:
Use your indyPL Library Card to check out books at any of our locations, or check out e-books and e-audiobooks from home right to your device. Click on a book jacket below to request a book or download it. Need help? Call or ask a Library staff member at any of our locations or text a librarian at 317 333-6877.
---
To learn even more about fascinating and inspiring black scientists and inventors, visit the Center for Black Literature & Culture at Central Library. The Center is dedicated to celebrating the vibrant and resilient heritage and triumphs of those born of African roots.