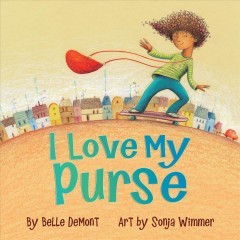 In I Love My Purse Charlie's grandma gives him a big red purse. One day he decides to take it to school. Nobody else thinks this is a good idea, not his Dad and not his friends. The red purse is allowed at school, that's not the problem, it's just...weird. Why is it weird? Because everybody says boys do not carry purses. Charlie doesn't care if even one other boy ever carried a purse to school. He wants to take the purse to school so he does, and then something interesting begins to happen. The people around Charlie notice his happy confidence and decide to try new things for themselves. Suddenly red purses, painted faces, Hawaiian shirts, and sparkly shoes start turning up everywhere! Some kids climb trees. Some kids wear dresses. Some kids climb trees while wearing dresses. Kids are kids, in all their different and marvelous ways! Kids can do anything! Below are books that celebrate kids doing life their own way.

You can listen to three of these stories right now! Amazing Grace is the story of a girl who has an experience like Charlie's. Everybody says a girl can't play Peter Pan in the school play. Everybody is wrong!

You can also listen to this video read aloud of Julian is a Mermaid and I am Jazz, read to celebrate the Jazz and Friends National Day of School and Community Reading.
Julian is a Mermaid is the story of a boy who sees three women spectacularly dressed up while riding the subway with his Abuela. When he gets home, he wants to dress up too! See what he collects from around his house to make his own fabulous mermaid costume and see how his Abuela celebrates his creativity. Printable Activities to go with the story are available here.
I am Jazz is the story of a transgender child who traces her early awareness that she is a girl in spite of male anatomy and the acceptance she finds through a wise doctor who explains her natural transgender status. The story was written by Jazz Jennings herself with her co-author, Jessica Herthel. Jazz was one of the first transgender children to talk publicly about her identity.