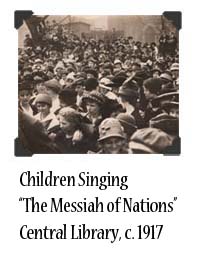 Construction began on Central Library in 1916. A cornerstone laying ceremony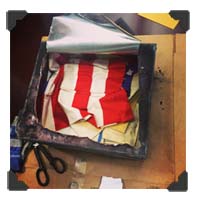 took place on March 24th. A cornerstone is a corner block in a building's foundation that is often ceremonial. Many cornerstones include an inscription of the construction dates of the building. Another tradition is putting a time capsule in a cornerstone. A time capsule is a box that contains a selection of objects chosen to be typical of the present time and then buried for opening in the future. Central Library's cornerstone had a time capsule in it that is 100 years old! We opened it! What do you think was inside?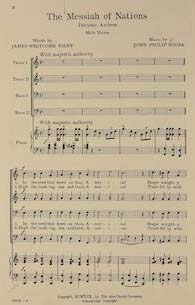 On the day of Central Library's cornerstone laying many Indianapolis citizens and community leaders gathered for a celebration. Children convened at Shortridge High School before marching down the street to sing "The Messiah of Nations" to mark the event. "The Messiah of Nations" is a song written by American composer John Philip Sousa. The lyrics to the song were written by Indiana's own James Whitcomb Riley. If you play the piano or like to sing, you can print a copy of the sheet music from The Library of Congress.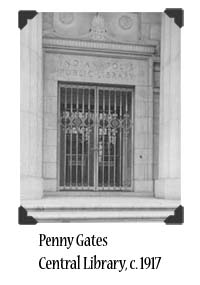 Central Library opened its doors in October 1917. When children entered through the doors on St. Clair Street they walked through the Riley penny gates. These gates were paid for by pennies donated by the children themselves. Once inside, children headed to a space designed just for them called the Riley Room. This room was named to honor James Whitcomb Riley. Riley was a Hoosier who wrote many poems for children and also donated the land Central Library is built on. If you enter Central Library through the doors on St. Clair Street today, you will still walk through the Riley penny gates! The Riley Room for Children was well used and loved as you can see in these old photographs but that space is not used for children anymore. Today Central Library has a space designed specifically for children called the Learning Curve.
What are some of the biggest differences between children using the library today, and children using the library in the 1920s? How many differences can you spot between the Children's Room in 1917 and the Learning Curve in 2017?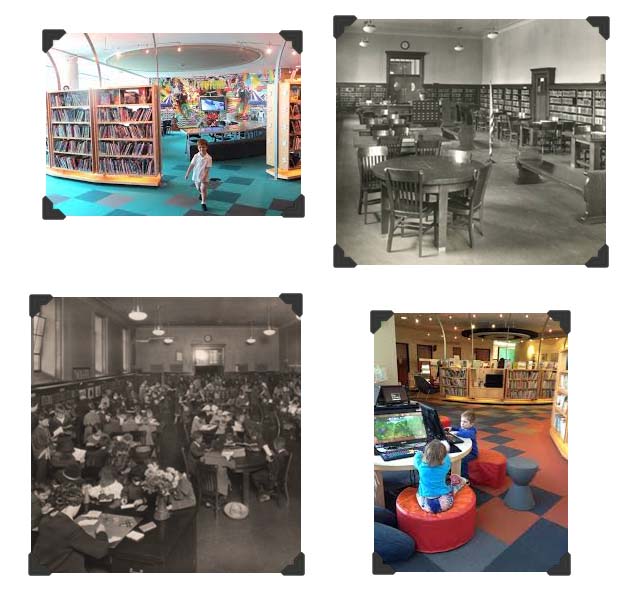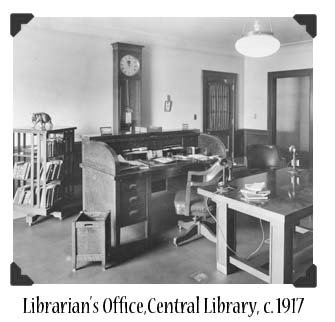 Librarian's jobs have changed a great deal since Central Library opened in 1917. Below is a photo of a librarian's desk at Central Library around 1917. Today librarians use computers, help people check out electronic books, and use the electronic databases to help answer questions over chat. What do you see on this librarian's desk that could give you a clue about how he/she would have helped someone find the answer to a question in 1917? How might a patron have gotten in touch with this librarian to ask a question?
Today if you want to find a book, you probably use our online catalog. But when Central Library opened you would have walked up to a huge card catalog, pulled out a drawer, and looked up information on index cards. You can still see a card catalog at the Indiana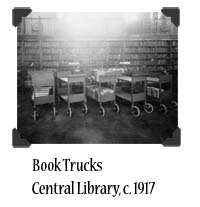 State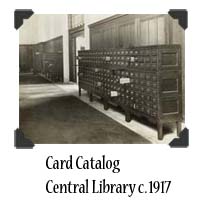 Library, complete with the cards. The picture below is of Central's card catalog in 1917. Do you think this method was easier or harder than how you find a book today? Have you ever used a card catalog?
Even though many things have changed about being a librarian over the last 100 years, some things have remained basically the same. Have you ever seen one of these in a library? Librarians still use book carts today for all manner of things - to move books around, to temporarily store books, and even for displays.