The Nutcracker is a German story written in the early 1800s by E.T.A. Hoffmann about a girl whose favorite Nutcracker comes to life, battles an evil Mouse King and then takes her to a magical kingdom of dolls. The story was turned into a ballet by composer Tchaikovsky. Attending a production of the Nutcracker ballet is a common Christmas tradition in the US.
At the Library you can try one of the many picture book versions of The Nutcracker, like The Nutcracker in Harlem, set In Harlem in the 1920s. It's fun to read about the different customs and traditions of people all over the world who celebrate Christmas.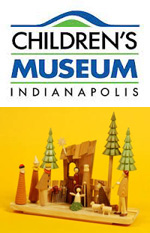 Here is an artifact that shows you a Christmas tradition from Europe. This creche, or nativity scene, is from Poland and is an Artifact at The Children's Museum of Indianapolis.
"Christmas nativity scenes are replicas of the birth of Jesus, which is the story taken from the Gospels of Matthew and Luke. Nativity sets are an essential part of the Christmas celebration all around the world. Many of the nativity scenes today originated with German crèches, a French word for "crib" or "manger." Christmas Nativity creches representing Mary, Joseph and others around the crib of baby Jesus at the Bethlehem stable have a long-standing tradition in Poland. During the holiday season you will find one in every church. Krakow boasts a unique tradition of creches shaped after the Krakow church of St. Mary. Each creche is hand-crafted by various professional artists and amateurs, and entered in an annual competition."
Choose one of the books below to experience Christmas from another time period or from a part of the world different than your own!