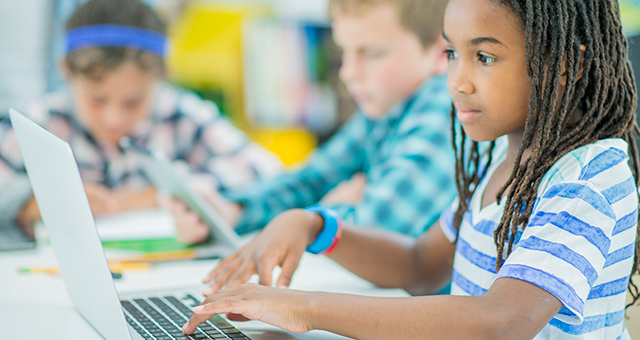 Scratch is the world's largest free coding community for kids. We are megafans of Scratch here at The Learning Curve at Central Library! This free coding website is fun, tinker-able, and requires no special software or computer programs to run - all you need is a web browser and your imagination. Created and maintained by MIT's Media Lab, Scratch went live in 2003. Over the last 20 years, countless kids, teens, and grown-ups have built up a thriving Scratch community.
Learning Specialist Barbara O'L created the awesome list below of IndyPL books full of Scratch tips and ideas. You're sure to find something that catches your eye from our collection!

Want to know more? Our go-to things to make in Scratch are mini-movies and animations, like this book trailer we made for Emmy in the Key of Code. But the creative possibilities don't end there! You can design and code video games, choose your own adventure stories, fun quizzes, and more. You can explore featured projects and studios from the Scratch home page for tons of inspiration.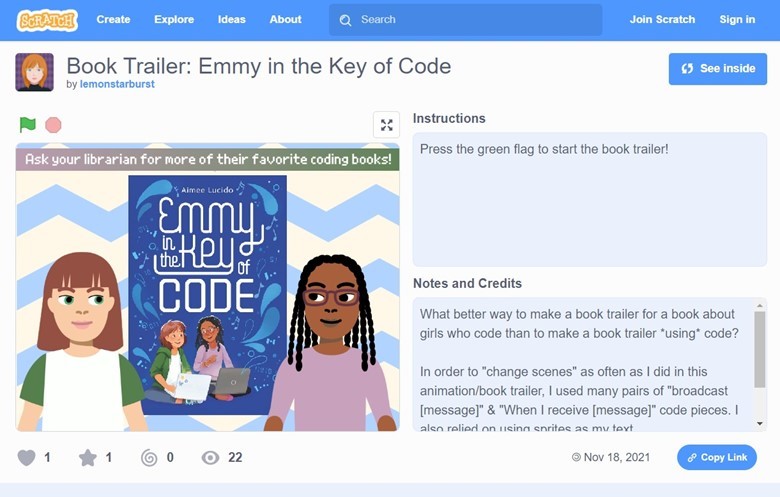 Here's our book trailer for Amy Lucido's "Emmy in the Key of Code"!
One of our favorite Scratch features is that you can look inside the code of any shared project. Curious to have a peek "under the hood"? There's no mystery here - Scratch's philosophy is all about sharing knowledge to help others learn and create! For example, here's Learning Specialist Chris B's Spooky Pumpkin animation. If you click "See Inside" from the project page, you will see all the code pieces he used to make his pumpkin float, flicker, and wobble. He also included some very handy notes that explain what the code pieces do. If you have a Scratch account, you can also save copies of other creators' code to your account to edit and play with. Scratch calls that "remixing"!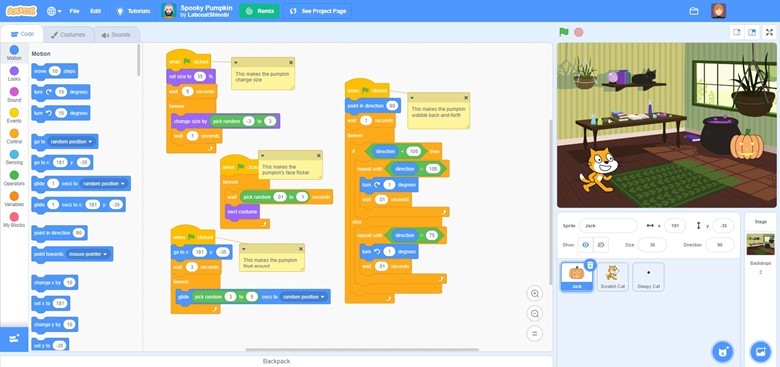 Here's a look at the code inside Chris' Spooky Pumpkin animation. The different color pieces all do different things. Blue pieces change how the pumpkin moves and purple pieces change what the pumpkin looks like. The yellow and orange pieces affect how and when the code commands happen - kind of like when you play Simon Says, you listen for "Simon says…", right?
We love Scratch because it brings STEM concepts together with an artistic outlet. Using math variables to make a movie? You bet! Whether you think of yourself as an artsy person or a math-y, science-y person, Scratch is a fantastic lab for trying new things and learning through relaxed, creative play.
Have questions? Call, text, or email Ask-a-Librarian. We are here to help you find what you need and make the most of Library resources. You may also call Central Library at 317-275-4100 to speak with a Learning Curve specialist about the Library's children's and teen materials and programs.
This guest blog post was contributed by Lucy Wortham, a Youth Multimedia Learning Specialist in The Learning Curve at the Central Library. When she's not at the library, she loves to cook. She's been very into making dumplings for the last couple of years - why not try making potstickers for your next family dinner or date night?