If you need to do a report about one of the countries of the world or just want to learn about what life is like somewhere else, the websites and books on this page will help you get started. You will be able to find maps, flags, national anthems, food, clothing, games and more. To find library books about a particular country, use the online catalog. Type the name of the country in the search box and click "search."
There are also country books about themes like "games" or "festivals" that will have information about individual countries. In books like these, individual countries will have a chapter or a section. Or, you might have to look up a country's name in the index at the back of the book to find out which page to go to.
---
Websites, Activities & Printables: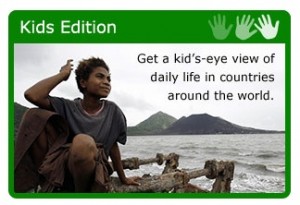 CultureGrams Kids Edition is a database you can use in any IndyPL Library Branch or at home. Login using your IndyPL library card number. Choose a country to find up-to-date information for reports including:
language
climate
geography
economy
history
population
government
holidays
religion
recipes
---
Books:
Use your indyPL Library Card to check out books at any of our locations, or check out e-books and e-audiobooks from home right to your device. Click on a book jacket below to request a book or download it. Need help? Call or ask a Library staff member at any of our locations or text a librarian at 317 333-6877.