We love teachers! Can you name your very favorite teachers? I can. Miss Sellers, Mr. Yoder, Mrs. Hayworth, Mrs. Reed. I could name more. I was lucky because I had a lot of good ones. Do you have anybody that is Professor McGonagall good? What are the things you like so much about a favorite teacher? My favorite thing in a teacher was someone who didn't think students were lacking in smart because they were a kid! My favorites listened and also laughed a lot.
Listed below are some all-time favorite teachers from kids' books. When the librarians in Indianapolis made suggestions for this list - Miss Honey from Matilda was suggested the most often. She gets a gold star!
You might also like taking a look back at Favorite Teachers in Picture Books. I bet you remember Mr. Ratburn and Miss Frizzle! Can you remember what stories they are in or the names of some of the kids in their classes?
Websites:
---
Books:
Use your indyPL Library Card to check out books at any of our locations, or check out e-books and e-audiobooks from home right to your device. Click on a book jacket below to request a book or download it. Need help? Call or ask a Library staff member at any of our locations or text a librarian at 317 333-6877.
Ms. Bixby in Ms. Bixby's Last Day - Loving their gifted teacher, three boys are dismayed when the teacher falls ill and leaves for the rest of the school year, a situation that compels them to share their stories while cutting class and journeying across town together on a fateful day.
---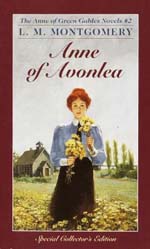 Miss Shirley in Anne of Avonlea - Anne, now sixteen years old and a teacher atAvonlea school, finds that she isn't much different than her mischievous and spirited pupils.
---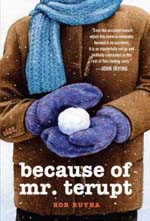 Mr. Terupt in Because of Mr. Terupt - Seven fifth-graders at Snow Hill School in Connecticut relate how their lives are changed for the better by "rookie teacher" Mr. Terupt. Young Hoosier Book Award, 2012-2013, 4-6 Nominee
---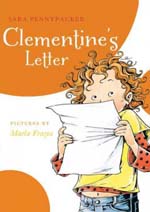 Mr. D'Matz in Clementine's Letter - Clementine's beloved teacher, Mr. D'Matz might be leaving for the rest of the year to go on a research trip to Egypt. The only solution, she decides, is to hatch a plan to get Mr. D'Matz back even if it means ruining his once-in-a-lifetime chance.
---
Professors Dumbledore, McGonagall, Snape & Hagrid in Harry Potter and the Sorcerer's Stone - Rescued from the outrageous neglect of his aunt and uncle, a young boy with a great destiny proves his worth while attending Hogwarts School for Wizards and Witches.
---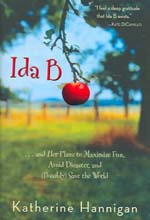 Ms. Washington in Ida B. - In Wisconsin, fourth-grader Ida B spends happy hours being home-schooled and playing in her family's apple orchard, until her mother begins treatment for breast cancer and her parents must sell part of the orchard and send her to public school. A Junior Library Guild selection; Young Hoosier Book Award, 2006-2007, 4-6 Nominee
---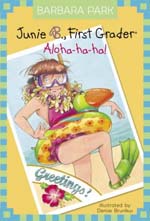 Mr. Scary in the Junie B. Jones, First Grader Aloha-ha-ha! - Junie B. and her family are going on a vacation to Hawaii! And ha! Mr. Scary is giving Junie a real, actual camera to keep a photo journal of her trip! But taking good vacation pictures is not always easy. 'Cause what if your airplane is full of grouchy ladies? And what if there is an unfortunate inner tube incident at the swimming pool? (And, oh my! Let's not even mention what happens if a tropical bird gets tangled in your hair!) Will Junie B.'s vacation end up picture perfect? Or will her trip to Hawaii be-horrible?
---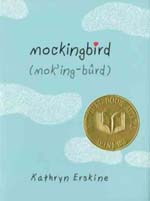 Mrs. Brook in Mockingbird - Ten-year-old Caitlin, who has Asperger's Syndrome, struggles to understand emotions, show empathy, and make friends at school, while at home she seeks closure by working on a project with her father. Young Hoosier Book Award, 2013-2014, 4-6 Nominee.
---
Miss Loupe in Operation YES by Sara Lewis Holmes In her first ever teaching job, Miss Loupe uses improvisational acting exercises with her sixth-grade students at an Air Force base school, and when she experiences a family tragedy, her previously skeptical class members use what they have learned to help her, her brother, and other wounded soldiers.
---
Mrs. Pidgeon in Gooney Bird is so Absurd - Mrs. Pidgeon's second grade class studies poetry and her students write haiku, couplets, free verse, and finally, a tribute to Mrs. Pidgeon's mother organized by the irrepressible Gooney Bird Greene.
---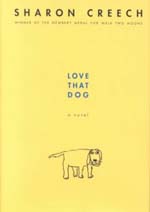 Miss Stretchberry in Love That Dog - A young student, who comes to love poetry through a personal understanding of what different famous poems mean to him, surprises himself by writing his own inspired poem.
---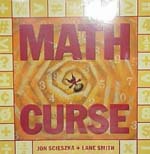 Mrs. Fibonnaci in Math Curse - When the teacher tells her class that they can think of almost everything as a math problem, one student acquires a math anxiety which becomes a real curse.
---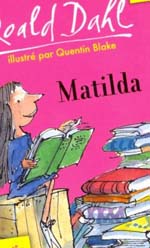 Miss Honey in Matilda - Matilda applies her untapped mental powers to rid the school of the evil, child-hating headmistress, Miss Trunchbull, and restore her nice teacher, Miss Honey, to financial security.
---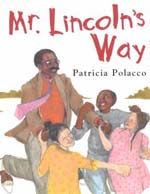 Mr. Lincoln in Mr. Lincoln's Way - When Mr. Lincoln, "the coolest principal in the whole world," discovers that Eugene, the school bully, knows a lot about birds, he uses this interest to help Eugene overcome his intolerance.
---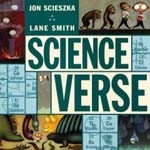 Mr. Newton in Science Verse - When the teacher tells his class that they can hear the poetry of science in everything, a student is struck with a curse and begins hearing nothing but science verses that sound very much like some well-known poems.
---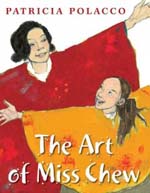 Miss Chew in The Art of Miss Chew - Describes how a teacher named Miss Chew encouraged individuality, and accepted learning differences, and helped a young student with academic difficulties get extra time to take tests and permission to be in advanced art classes. Inspired by the author's memories of her art teacher.
---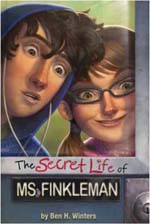 Miss Finkleman in The Secret Life of Ms Finkleman - Spurred by a special project from her social studies teacher, seventh-grader Bethesda Fielding uncovers the secret identity of her music teacher, which leads to a most unusual concert performance and a tutoring assignment.
---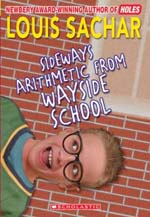 Miss Jewls in Sideways Arithmetic from Wayside School - Join Mrs. Jewls's class and try solving over fifty math puzzles and brainteasers.
---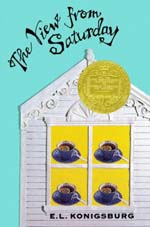 Mrs. Olinski in The View From Saturday - Four students, with their own individual stories, develop a special bond and attract the attention of their teacher, a paraplegic, who chooses them to represent their sixth-grade class in the Academic Bowl competition.
---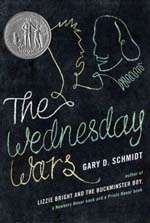 Mrs. Baker in The Wednesday Wars - During the 1967 school year, on Wednesday afternoons when all his classmates go to either Catechism or Hebrew school, seventh-grader Holling Hoodhood stays in Mrs. Baker's classroom where they read the plays of William Shakespeare and Holling learns much of value about the world he lives in.
---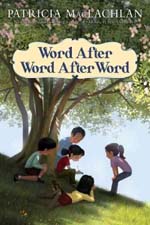 Ms. Mirabel in Word After Word After Word - A visiting author teaches five friends about the power of words and writing. A Junior Library Guild selection
---
Miss Agnes in The Year of Miss Agnes - Ten-year-old Fred (short for Frederika) narrates the story of school and village life among the Athapascans in Alaska during 1948 when Miss Agnes arrived as the new teacher.