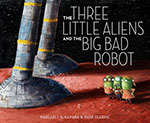 There are lots of stories most kids can rattle off without even thinking very much - The Three Little Pigs, The Three Bears, Cinderella, etc. Some of these stories are so commonly told children all over the world know them. When the stories are told in different places they often take on interesting differences that reflect the environment and culture where the story is being told.
Sometimes storytellers just like to have fun with a traditional story too. For example a storyteller might think, "What if Cinderella wanted to play in a hockey game instead of go to a ball?" or "What if we heard the Big Bad Wolf's side of the story?"
This page is a list of traditional stories that have been told and retold in ways that are interesting, surprising, or funny! These versions are either set in unique place, told from a new point of view or have some kind of fun twist.
---
Use your indyPL Library Card to check out books at any of our locations, or check out e-books and e-audiobooks from home right to your device. Need help? Call or ask a Library staff member at any of our locations or text a librarian at 317 333-6877.
Choose a tale below to see a list of unique spins on these fairy tale classics:
Cinderella (variants)
Cinderella (around the world)
The Gingerbread Boy
Goldilocks and the Three Bears
Hansel and Gretel
Jack and the Beanstalk
The Little Red Hen
Little Red Riding Hood
The Princess and the Pea
Stone Soup
The Three Billy Goats Gruff
The Three Little Pigs