Snow White a Graphic Novel is the classic Snow White story set after World War I. During the war while many men were serving in the military, many women did things they had not done before, like working outside the home in factories and businesses. During this time more women went to college and they won the right to vote. It is a really interesting time to set a story like Snow White, a story about a girl who seems to rely entirely on other people to rescue her or take care of her.
In this telling, Snow is strong and resilient and brave. She relies on her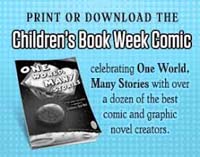 friends. Seven friends. I bet if you try to guess who they are, you'll be wrong! This time around, Snow is rescued, but she does her own rescuing too! A great ending to a book that changes up the Snow White story to highlight how you get by with a little help from your friends!
Listed below are even more Favorite graphic novels & comics. They definitely aren't just about superheroes anymore. In the list you will find a diverse cast of characters whose stories are set in different and interesting places.
---
Graphic Novels for Kids:
Use your indyPL Library Card to check out books at any of our locations, or check out e-books and e-audiobooks from home right to your device. Click on a book jacket below to request a book or download it. Need help? Call or ask a Library staff member at any of our locations or text a librarian at 317 333-6877.