Watch Dav Pilkey at Home Friday mornings at 8 a.m. ET
The creator of Dog Man and Captain Underpants Dav Pilkey, will host Dav Pilkey at Home. The show will feature fun and free activities that will be available online including how-to-draw demonstrations, read-a-louds and resources from the collections of the Library of Congress. Additional videos and content will be shared periodically throughout the week and will feature downloadable activities, conversations about books and creativity, and tips for kids and families to create their own characters and act out scenes from Pilkey's Dog Man book series.
Starting April 1, 2020 Dav Pilkey at Home can be found here:
Listed below are even more favorite graphic novels & comics for kids. They definitely aren't just about superheroes anymore! In the list you will find a diverse cast of characters whose stories are set in different and interesting places.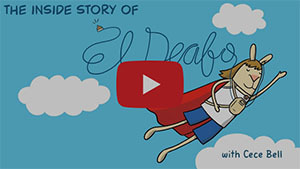 Enjoy The Inside Story of El Deafo, a chapter by chapter video series about the making of the graphic novel El Deafo by Cece Bell. She posts a new video every Monday.
Graphic Novel Reading Lists for Kids from IndyPL Librarians:
Use your indyPL Library Card to check out books at any of our locations, or check out e-books and e-audiobooks for kids from home right to your device. Need help? Call or ask a Library staff member at any of our locations or text a librarian at 317 333-6877.