Websites:
---
Local Places to Find Leaves:
If you haven't started your collection yet or want to add to what you already have, there are two great places you can go in Indianapolis to find leaves, Crown Hill Cemetery and Butler University. Both places have websites you can go to for maps and directions. They even label the trees so that you know for sure what kind of leaf you have. Put on some old shoes and go on a leaf hike. The sun is shining, you get a map, the trees are labelled - Easy A!

Crown Hill Cemetery
700 West 38th Street
Indianapolis, Indiana 46208
Phone: 317-925-3800
Butler University
4600 Sunset Ave.
Indianapolis, IN 46208
Phone: 317-940-9413 or 317-940-8302
Memorial Stadium, Indiana State University
3300 Wabash Avenue
Terre Haute, IN 47803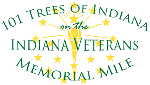 The "Indiana Veterans Memorial Mile" is a one mile walking trail around Indiana State University's Memorial Stadium located at Wabash and Brown Avenues on the Historic National Road.
---
Books:
Use your indyPL Library Card to check out books at any of our locations, or check out e-books and e-audiobooks from home right to your device. Need help? Call or ask a Library staff member at any of our locations or text a librarian at 317 333-6877.