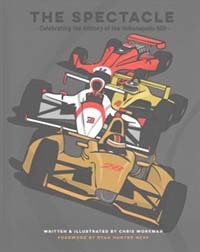 In the month of May in Indianapolis attention is focused at The Indianapolis Motor Speedway, or less formally, "The Brickyard," or as we simply call it here at home, "the track."
If you sit outside in Indianapolis on a spring day in May and the wind is just right in relation to where you are, you can hear the distant high-pitched hum of cars practicing, careening around the track. On race day you can see other signs that something big is happening. If you look up you can see the Goodyear blimp floating above the city giving the world a birds-eye view, or at start time, watch the fighter jets fly in formation over the city, both traditions leading up to "Ladies and Gentlemen, start your engines!"
While you wait for this year's race, have fun learning about the history, physics and amazing records of the greatest spectacle in racing - the Indianapolis 500! The Spectacle is a complete history of the Indianapolis 500. It includes a hundred year's worth of memories from legendary drivers and details about memorable races. It's like you were in the pits yourself watching the drama unfold. Listed below are online activities and books about the Indy 500 you can check out with your IndyPL library card. You can even learn how to draw or build a race car of your own!

Websites:
Books:
Use your indyPL library card to check out e-books and audiobooks about the Indianapolis 500 from home right to your device from Axis 360 and OverDrive Kids.
Need help? Ask a Library staff member at any of our locations or call, text or email Ask-a-Librarian.