In the spirit of another beloved Hoosier, David Letterman:
Top 10 Ways to Know James Whitcomb Riley was a Rock Star of his Time:
10. His book Rhymes of Childhood was published in 1912. Today, over 100 years later, you can easily find his book at the library or go to an online bookstore and find it for sale as a print book or an e-book. There are not very many books that are still printed from that long ago!
9. In the late 1890s Riley encouraged the African American poet Paul Laurence Dunbar. He wrote Dunbar a letter of recommendation that helped get Dunbar's work published.
8. When Riley died, the President of the United states, Woodrow Wilson, and the Vice-President of the United States, Thomas Riley Marshall (who was from Columbia City, Indiana), both sent messages of condolence to his family. The Governor of Indiana allowed Riley to be laid in state at The Indiana Statehouse Rotunda so that people could come pay their respects. Until that time, only Abraham Lincoln had been honored in that way.
7. Greenfield, IN, his birthplace, and Indianapolis, IN, his home for over 20 years, fought over where Riley should be buried. Over Riley's Dead Body: Indy's Weirdest Civic Fight. Indianapolis won. He is buried at Crown Hill Cemetery in a tomb at the top of a hill, the highest point in Indianapolis. Section 61, Lot 1.
6. Both Riley's boyhood home in Greenfield, IN and his adult home in Indianapolis, IN are museums and on the National Register of Historic Places.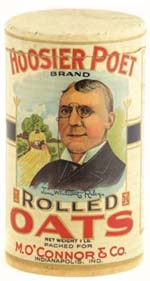 5. The James Whitcomb Riley Hospital for Children was created and named in his honor in 1924. In 1955 the hospital added Camp Riley, a camp for youth with disabilities.
4. In 1940, the U.S. Postal Service issued a 10-cent stamp honoring Riley.
3. A cargo ship, the SS James Whitcomb Riley, was commissioned in 1942 during World War II.
2. There used to be a Hoosier Poet Brand of coffee, oatmeal, vegetables, cigars and more.
1. James Whitcomb Riley donated the land Central Library is built on. The bronze gates at the main entrance on St. Clair Street were purchased with pennies donated by children. The bronze tablets on each of the iron gates say: The gates are the gift of the children of Indianapolis in loving remembrance of their friend James Whitcomb Riley