Indianapolis's own John David Anderson has been named the 2017 Indiana Author Award Genre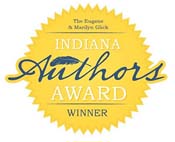 Excellence Winner for Middle Grade Fiction. That's a long way to say he won an award for writing great books - books kids like - for middle school students. Mr. Anderson is the author of several favorites, including Ms. Bixby's Last Day, Sidekicked, Minion, Standard Hero Behavior, and The Dungeoneers. A self-proclaimed lover of root beer and chocolate, he lives right here in Indianapolis. You can learn more at www.johndavidanderson.org.
Mr. Anderson's book Posted is the story about what happens when kids go old-school after having their cell phones taken away. Instead of using texts or social media to communicate with each other they use post-it notes!
Here are some of the many awards Mr. Anderson's books have received:
The Kirkus Prize 2016 Nominee, Young Readers
NCTE Charlotte Huck Award for Outstanding Fiction for Children 2017, Honor
Publishers Weekly Best Books of 2016, Middle Grade
The New York Times Notable Children's Books of 2016, Middle Grade
New York Public Library 2016 Best Books for Kids, Fiction
Booklist 2016 Editors' Choice, Books for Youth, Middle Readers, Fiction
ALSC Notable Children's Books 2017, Middle Readers
2016 Cybils Finalist, Middle Grade Fiction
2015 Cybils Award Finalist
2013 Cybils Award Finalist
2010-2011 Young Hoosier Book Award Nominee