~ IndyPL_CarrieW~ IndyPL_CarrieW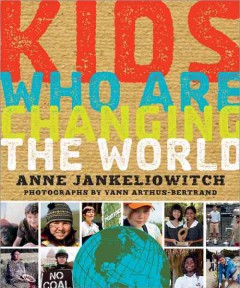 Kids Who Are Changing the World tells the stories of forty-five children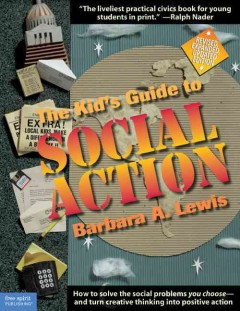 around the world who are taking steps to help the environment. Some of them are raising money, some of them are organizing peaceful protests, and some of them are raising awareness by doing art projects or speaking.
Listed below are books about more ways you can give back to your community as well as books about kids, both real and imagined, who have made a real difference.
Use your indyPL Library Card to check out books at any of our locations, or check out e-books and e-audiobooks from home right to your device. Click on a book jacket below to request a book or download it. Need help? Call or ask a Library staff member at any of our locations or text a librarian at 317 333-6877.
---
Social Action Guides for Kids: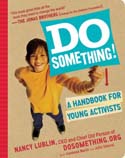 Do Something! A Handbook for Young Activists - Describes projects for the young activist, such as fighting hunger, ending poverty, and saving the environment.
---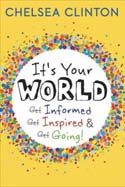 It's Your World - In a book for young people, Chelsea Clinton informs readers about issues facing our world and what kids can do to help solve them.
---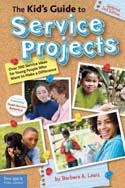 The Kids' Guide to Service Proects - Over 500 service ideas for young people who want to make a difference.
---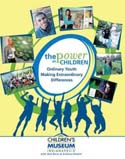 The Power of Children - The Power of Children Awards program (POCA) was established in 2005. In ten years of its existence, it has recognized fifty young people who have made enormous positive impacts on their communities and the world. The Power of Children offers profiles of these fifty young trailblazers, educators, and helpers, describing the projects that led to their awards.
---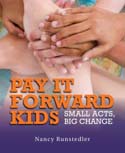 Pay It Forward Kids - Meet ordinary kids from across North America who have done extraordinary things, all on their own initiatives. They have set out to pay it forward to someone else, with astonishing results. The ripple effect of their deeds have inspired others to join their causes, and in some cases, to start missions of their own. These powerful stories demonstrate that you are never too young to make a difference or to improve the life of another. Kindness can be done by anyone, you just need to step up and start.
---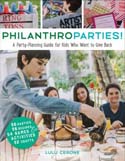 Philanthroparties - Why just party when you can party with a purpose? Seventeen-year-old Lulu Cerone shows teens how to bring social activism into their daily lives—and have fun while doing it—with this colorful DIY party planning guide perfect for every socially conscious kid!
---
Real Kids Who Made a Difference:

Painting for Ferguson - Painting for peace in Ferguson is the story of a community coming together, hundreds of artists and volunteers, black and white, young and old, to bring hope and healing to their community using the simplest of all tools- a paintbrush. Written in child-friendly verse, the actual artwork painted on hundreds of boarded up windows in Ferguson, South Grand and surrounding areas illustrates the story.
---

Luna and Me: the True Story of a Girl Who Lived in a Tree to Save a Forest - Social activism combines with environmentalism in this picture book bio of Julia Butterfly Hill and Luna, the thousand-year-old redwood tree whose life she saved.
---
Malala Activist for Girls' Education - Describes how a young Pakistani activist was violently targeted by the Taliban for her efforts to secure educational rights for girls.
---
Our Heroes: How Kids are Making a Difference - Biographies of ten children from around the world who never set out to be heroes or to be famous, but whose actions have made the world a better place.
---
The Young Marcher - Presents the life of nine-year-old Audrey Faye Hendricks who became the youngest known child to be arrested for picketing against Birmingham segregation practices in 1963.
---

We Will Not Be Silent: the White Rose Student Resistance Movement that Defied Adolf Hitler - A carefully researched portrait of Hans and Sophie Scholl describes how they questioned the beliefs of Austria's Hitler Youth and risked their freedom and lives to organize a resistance campaign with other students.
---
We've Got the Job: the 1963 Birmingham Children's March - Discusses the events of the 4,000 African American students who marched to jail to secure their freedom in May 1963.
---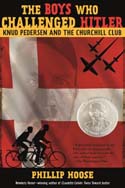 The Boys Who Challenged Hitler - Presents the story of a group of Danish boys who formed a resistance organization against the Nazi occupation of their country.
---
Stories About Kids Who Made a Difference:
The End of the Wild - Eleven-year-old Fern helps to take care of her impoverished family by foraging for food in the forest, but when a fracking company rolls into town, she realizes that her peaceful woods and her family's livelihood could be threatened.
---
Flush - With their father jailed for sinking a river boat, Noah Underwood and his younger sister, Abbey, must gather evidence that the owner of this floating casino is emptying his bilge tanks into the protected waters around their Florida Keys home. Young Hoosier Book Award, 2007-2008, 6-8 Nomine.
---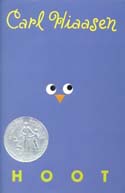 Hoot - Roy, who is new to his small Florida community, becomes involved in another boy's attempt to save a colony of burrowing owls from a proposed construction site.
---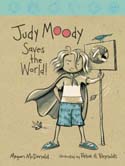 Judy Moody Saves the World - When Judy Moody gets serious about protecting the environment, her little brother Stink thinks she is overdoing it, but she manages to inspire her third grade class to undertake an award-winning, environment- saving project.
---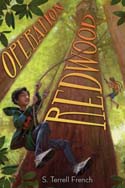 Operation Redwood - In northern California, Julian Carter-Li and his friends old and new fight to save a grove of redwoods from an investment company that plans to cut them down.
---
Slacker - When eighth-grader Cameron Boxer creates the Positive Action Group at school he intends it as a diversion to fool his parents, teachers, and sister into letting him continue to concentrate on his video-gaming--but before he knows it other kids are taking it seriously, and soon he finds himself president of the P.A.G., and involved in community service, so the boy who never cared about anything is now the center of everything, whether he likes it or not.
---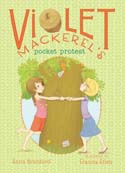 Violet Mackerel's Pocket Protest - Violet and Rose organize a protest to save the big oak tree in Clover Park.
---