Long-Armed Ludy is the story of Olympic athlete Lucile Godbold. Lucile competed in track and field events at the 1922 Women's World Games. The Women's World Games were held when the International Olympic Committee refused to include women's events in the 1924 Olympic Games. I did not know that happened! I had never heard of The Women's World Games before. Lucile was a trailblazer! It takes a lot of hard work and practice to be an Olympic athlete. It also takes a lot of money. Find out how Lucile made it to the games with a little help from her friends!
Listed below are more books, websites & databases that will help you learn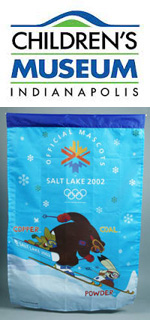 about the history of Olympic competition and find out more about athletes like Lucile.
You can view some online images of Olympic Artifacts at The Children's Museum of Indianapolis like this 2002 Winter Olympics Banner. "The mascots of the 2002 Salt Lake City Winter Olympics represented the land and culture of Utah and the American West. Inspired by images from ancient petroglyphs, Powder the Hare, Coal the Bear and Copper the Coyote were chosen as ideal icons for the 2002 Games."
Printables, Websites & Activities:
---
Books:
Use your indyPL Library Card to check out books at any of our locations, or check out e-books and e-audiobooks from home right to your device. Click on a book jacket below to request a book or download it. Need help? Call or ask a Library staff member at any of our locations or text a librarian at 317 333-6877.