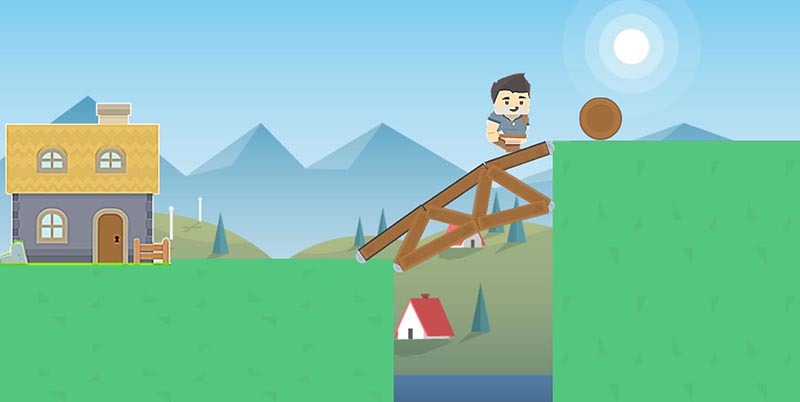 BrainPOP: Games
Lessons and games on a variety of subjects.
BrainPOP Games: Sortify Inventions
Sort the inventions into categories, or form pairs or sequences for extra points.
Colonial Williamsburg: Explore from Home
Visit and learn more about Colonial Williamsburg and 17th-18th century American life.
Engineering.com Games: Bridge Designer
Build a bridge to safely get loads across!
Engineering.com Games: Dynamic Systems
Think like an engineer to solve each level.

Engineering.com Games: Factory Balls Forever
Changing only one thing at a time, prepare each ball to match and ship out.

Exploratorium: Science Snacks
Hands-on STEAM projects using everyday materials.
Exploratorium Tinker Lab
Tinker and create with projects from San Francisco's Exploratorium Museum.
Famobi Games: 123 Puzzle
What number comes next in the sequence?

Free Rice
Practice subjects like multiplication and vocabulary while donating rice through the UN World Food Programme.
Google Arts & Culture
Make interactive art and music, visit thousands of museums and landmarks around the world, and play games.
Google Arts & Culture: Blob Opera
Machine learning meets classical composition techniques - conduct your own 4-voice choir.
Met Museum: MetKids
Explore the Met museum with a "Where's Waldo"-inspired interactive map.
MIT: Scratch Coding Lab
Play and create games and animations using block-based coding language (and join the Learning Curve Scratch Studio!)
Modular Mindset: Car Drawing Game
Draw and simple vehicle and solve each level.

Mr. Nussbaum Learning + Fun
Lessons and games on a variety of subjects.
Mr. Nussbaum: Spellerz
Fend off the invading spaceships with your spelling and typing skills!

Nonograms
Nonograms are like paint-by-number logic puzzles - give it a try!
PBS Kids
Play games and activities with your favorite PBS characters!

Physicsgames.net: Rolling Cheese
Guide the cheese to the hungry mouse by destroying objects that are in the way.
Scientific American + Science Buddies
At-home STEM projects, experiments, and lessons.
Starfall
Math, language arts, and seasonal games for kids pre-K through Grade 3.

Stop
A clever platform video game - stop time to solve each level!
The Anne Frank House: Web and Digital
Visit the Anne Frank house online and learn more about this extraordinary girl, her life, and legacy.
Twine
Create interactive stories, games, and puzzles.