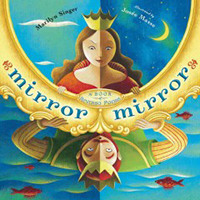 Mirror Mirror is a book of poems about classic fairy tales. You read each poem and then you read each poem again backwards, reading each line in reverse order. It's amazing and hard to believe...but both poems make sense! This seems unbelievably difficult. To make it even more complicated, when you read the poem in one direction, it is from one character's point of view and when you read the poem backwards it is from a different character's point of view. I have no idea how the author managed to do this. It's word brilliant! THEN, to make the poems even MORE amazing, the illustrator, Josée Masse, made the pictures the same way! How in the world did they do this? Amazing!
The author and illustrator also teamed up for two more books of reverso poetry. One is called Echo, Echo and the other is called Follow, Follow. In this video, listen to the author explain a little bit about how she wrote the poems and then listen to her read a few of them aloud.
National Poetry Month is a great time to discover amazing poems and amazing poets!
More Poetry Books:
Use your indyPL Library Card to check out books at any of our locations, or check out e-books and e-audiobooks from home right to your device.
If you have never borrowed from one of these platforms before directions are available:
Need help? Ask a Library staff member at any of our locations or call, text, or email Ask-a-Librarian. The Tinker Station helpline at (317) 275-4500 is also available. It is staffed by device experts who can answer questions about how to read, watch and listen on a PC, tablet or phone.
More poetry read alouds to enjoy for National Poetry Month: