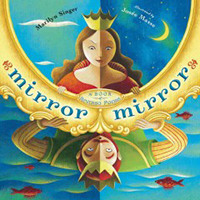 Mirror Mirror is a book of poems about classic fairy tales. You read each poem and then you read each poem again backwards, reading each line in reverse order. It's amazing and hard to believe...but both poems make sense! This seems unbelievably difficult. To make it even more complicated, when you read the poem in one direction, it is from one character's point of view and when you read the poem backwards it is from a different character's point of view. I have no idea how the author managed to do this. It's word brilliant! THEN, to make the poems even MORE amazing, the illustrator, Josée Masse, made the pictures the same way! How in the world did they do this? Amazing!
The author and illustrator also teamed up for two more books of reverso poetry. One is called Echo, Echo and the other is called Follow, Follow. In this video, listen to the author explain a little bit about how she wrote the poems and then listen to her read a few of them aloud.
National Poetry Month is a great time to discover amazing poems and amazing poets. Maybe the amazing poet is you! Try one of these online classes for kids and see what kind of amazing poems you can write!
Poetry and Mindfulness Workshop for Kids
Saturday, April 24: 11:00 am Register
In this workshop led by Manon Voice, you will engage with the artist in an activity to explore mindfulness, responding to music and art. You will create poetry that explores both their inner and outer worlds. Program is through Arts for Learning, The Indiana Affiliate of Young Audiences
Sensory Observation Poetry Workshop
Monday, April 26 at 6:30 pm Register
Join Center For Black Literature & Culture Poet Laureate, Januarie York, for a creative session on writing poetry using sensory observation. In this session for aspiring poets and creators ages 8 & up, we will move beyond the basics of similes and metaphors, and take a deeper look at how to bring poems alive by using our senses to write. Bring your paper and imagination to this session! This event is being held as an online meeting/webinar. You will be emailed login instructions approximately 24 hours before the event.
More Poetry Books:
Use your indyPL Library Card to check out books at any of our locations, or check out e-books and e-audiobooks from home right to your device.
If you have never borrowed from one of these platforms before directions are available:
Need help? Ask a Library staff member at any of our locations or call, text or email Ask-a-Librarian.
More poetry read alouds to enjoy for National Poetry Month: