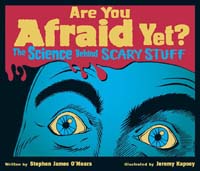 Do you actually like being scared? Lots of kids do. You can read about actual haunted houses and reports of ghosts or read made up stories starring vampires, werewolves ghosts. Some of our very favorite goosebump giving stories are listed below. Are You Afraid Yet explains the science behind some things we think are scary. What do scientists say about mummies and ghosts? Reading this one might make you feel better, but reading the stories below, might make you want to sleep with your light on!
Websites:
---
Books:
Use your indyPL Library Card to check out books at any of our locations, or check out e-books and e-audiobooks from home right to your device. Click on a book jacket below to request a book or download it. Need help? Call or ask a Library staff member at any of our locations or text a librarian at 317 333-6877.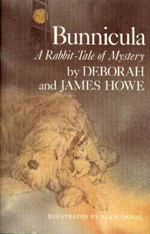 Bunnicula - Though scoffed at by Harold the dog, Chester the cat tries to warn his human family that their foundling baby bunny must be a vampire.
---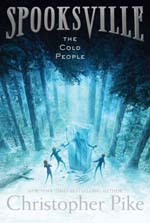 The Cold People - Adam and his friends are exploring the forest near Spooksville when they come across huge blocks of ice hidden among the trees. They decide to melt one, but when they do, a strange man comes out of the ice and tries to grab them. The man has very cold hands, and his eyes aren't too warm either! Soon there are dozens of Cold People running around Spooksville freezing everyone. It seems like nothing can stop them. But Adam and his friends have an idea that just might save the day.
---
Coraline - Looking for excitement, Coraline ventures through a mysterious door into a world that is similar, yet disturbingly different from her own, where she must challenge a gruesome entity in order to save herself, her parents, and the souls of three others.
---
The Eyeball Collector - When a blackmail artist reveals a secret from the past, wealthy Hector Fitzbaudly ends up losing his social standing and fortune, prompting him to seek revenge on the man responsible for the act, the sinister Eyeball Collector.
---
The Ghost of Crutchfield Hall - In the nineteenth century, Florence Crutchfield leaves a London orphanage to live with her great-uncle, great-aunt, and sickly cousin James, but she soon realizes the home has another resident, who means to do her and James harm.
---
The Graveyard Book - Nobody Owens is a normal boy, except that he has been raised by ghosts and other denizens of the graveyard.
---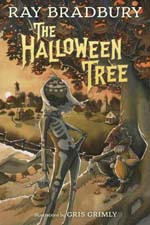 The Halloween Tree - A group of children and a "spirit" go back through time to discover the beginnings of Halloween.
---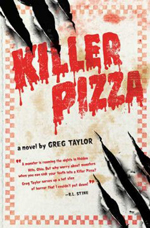 Killer Pizza - While working as summer employees in a local pizza parlor, three teenagers are recruited by an underground organization of monster hunters. Sequel: The Slice
---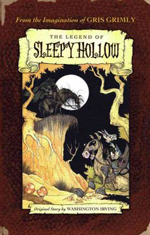 The Legend of Sleepy Hollow - A superstitious schoolmaster, in love with a wealthy farmer's daughter, has a terrifying encounter with a headless horseman.
---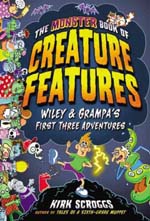 The Monster Book of Creature Features - A mash-up of the first three books in the Wiley & Grampa's Creature Features series finds Wiley and his goofy grandfather tackling numerous mythical creatures with the help of no-nonsense Gramma and a gang of neighborhood friends.
---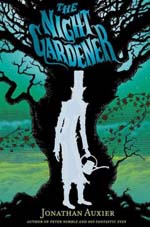 The Night Gardener - Irish orphans Molly, fourteen, and Kip, ten, travel to England to work as servants in a crumbling manor house where nothing is quite what it seems to be, and soon the siblings are confronted by a mysterious stranger and secrets of the cursed house.
---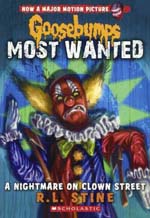 A Nightmare on Clown Street - Joining his uncle for a summer at the circus, Ray becomes a clown-in-training, but strange things start happening and he wonders about a place called "Clown Street" that even the other clowns are afraid to go to.
---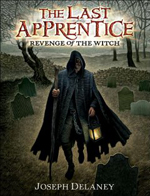 Revenge of the Witch - Young Tom, the seventh son of a seventh son, starts work as an apprentice for the village spook, whose job is to protect ordinary folk from "ghouls, boggarts, and all manner of wicked beasties.
---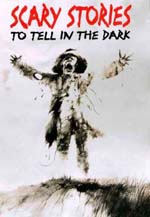 Scary Stories to Tell in the Dark - This spooky book of American folklore is filled with tales of eerie horror and dark revenge that will make you jump with fright. There is a story here for everyone -- skeletons with torn and tangled flesh who roam the earth; a ghost who takes revenge on her murderer; and a haunted house where every night a bloody head falls down the chimney. Stephen Gammell's splendidly creepy drawings perfectly capture the mood of more than two dozen scary stories -- and even scary songs -- all just right for reading alone or for telling aloud in the dark. If you dare!
---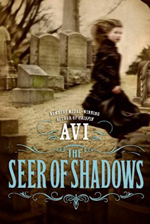 The Seer of Shadows - In New York City in 1872, fourteen-year-old Horace, a photographer's apprentice, becomes entangled in a plot to create fraudulent spirit photographs, but when Horace accidentally frees the real ghost of a dead girl bent on revenge, his life takes a frightening turn.
---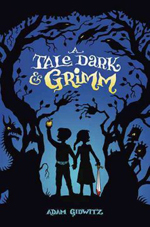 A Tale Dark and Grimm - Follows Hansel and Gretel as they walk out of their own story and into eight more tales, encountering such wicked creatures as witches, along with kindly strangers and other helpful folk. Based in part on the Grimms' fairy tales Faithful Johannes, Hansel and Gretel, The seven ravens, Brother and sister, The robber bridegroom, and The devil and his three golden hairs.
---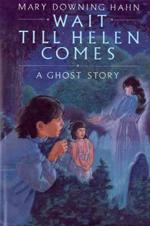 Wait Til Helen Comes - Heather likes to get her older stepbrother and stepsister into trouble. When the family moves to the country, Heather starts talking to a ghost named Helen. Heather's strange behavior concerns her siblings, but when Helen the ghost actually appears, concern diminishes into fear.
---
The Wikkeling - Henrietta and her pals Gary and Rose all have headaches with an unknown cause and experience other strange incidents--including the appearance of a threatening creature called the Wikkeling--and are hopeful that an ancient bestiary can help solve these mysteries.
---
The Witches - A young boy and his Norwegian grandmother, who is an expert on witches, together foil a witches' plot to destroy the world's children by turning them into mice.