Vinegar is an acid. Eggshells are made of calcium carbonate. If you soak an egg in vinegar the eggshell will absorb the acid and break down, or dissolve. The calcium carbonate will become carbon dioxide gas, which will go into the air. What is left is the soft tissue that lined the inside of the eggshell. It will bounce!
Science Experiment Idea: Make three bouncing eggs. Soak one egg in vinegar for 24 hours (1 day), one egg for 48 hours (2 days) and one egg for 72 hours (3 days). How do the eggs look when done soaking? How does each egg behave when you try to bounce it? Hint: BOUNCE OUTSIDE!

Websites, Activities & Printables: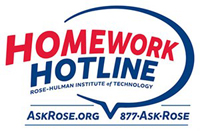 You can also ask a math and science expert for homework help by calling the Ask Rose Homework Hotline. They provide FREE math and science homework help to Indiana students in grades 6-12.
---
Books:
Use your indyPL Library Card to check out books at any of our locations, or check out e-books and e-audiobooks from home right to your device.
Need help? Call or ask a Library staff member at any of our locations or text a librarian at 317 333-6877.