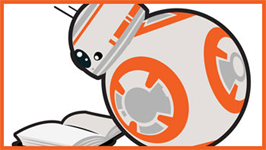 It's Star Wars Reads Month! Have a happy one! You don't have to wait for a special month to enjoy Star Wars though, you can have reading adventures with your favorite Star Wars characters EVERY day.
Websites & Activities:
---
Museum Artifacts:

Han Solo in Carbonite - This replica of the original Han Solo prop was made from the actual molds created for the Star Wars films. In The Empire Strikes Back, the character Han Solowas captured by bounty hunter Boba Fett. Solo was flash-frozen in carbonite-alive, yet entombed. He hung as a trophy on Jabba the Hutt's wall until being rescuedby his Rebel friends in the film, Return of the Jedi.
Star Wars Millenium Falcon & Two Figures - Never tell me the odds! could well be Han Solo's motto. Not the fresh faced hero of George Lucas' film, Lucas considered Han Solo "a loner who realizes the importance of being part of a group and helping for the common good." From smuggler to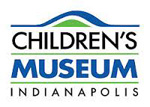 general for the rebel alliance, Solo along with fellow adventurer Chewbacca formed a team in the classic tale of good versus evil which blended the best of old-fashioned cliffhangers and science fiction with groundbreaking special effects. This 1981 toy Millennium Falcon was made by Kenner. Toys released after Star Wars in 1977 launched the trend of "mega-marketing" major movies with products. A new generation of fans discovered the Star Wars series with the release of episodes I, II, and III between 1999 and 2005.
---
Books:
Use your indyPL Library Card to check out books at any of our locations, or check out e-books and e-audiobooks from home right to your device. Click on a book jacket below to request a book or download it. Need help? Call or ask a Library staff member at any of our locations or text a librarian at 317 333-6877.
---
Non-Fiction: