Dying to Meet You is an epistolary story. It doesn't have any chapters in it. It's a story told through a collection of letters and notes with a few newspaper articles thrown in here and there. You have to figure out who is who and what is going on by reading the letters the characters write to each other and by reading the newspaper articles that report the strange happenings at 43 Old Cemetery Road.
Ignatius B. Grumply is a crabby old author with writer's block who has rented a creepy old house for the summer. He doesn't know it, but a boy named Seymour is living on the third floor and a ghost lives in the attic – a bossy old lady ghost.
The old man discovers the boy first and is none too happy. Seymour isn't too happy about sharing the house with the old man either. They agree to communicate by letter, which is fine, until the old man shoots some accusations at Seymour that are simply not true. The slamming doors, the loudly playing piano, the falling chandalier – none of that was Seymour, that was the ghost! Mr. Grumply doesn't believe a word of it and he isn't at all interested in having a liar for a housemate.
Read the letters to hear them duke it out in writing – the letters are funny exchanges between these people who don't care for each other at all…at first!
If you like Mr. Grumply and Olive and Seymour, you might like some of these epistolary stories too.
Use your indyPL Library Card to check out books at any of our locations, or check out e-books and e-audiobooks from home right to your device. Click on a book jacket below to request a book or download it. Need help? Call or ask a Library staff member at any of our locations or text a librarian at 317 333-6877.
---
Chapter Books: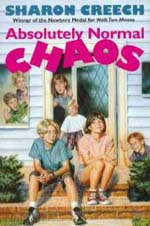 Absolutely Normal Chaos Thirteen-year-old Mary Lou grows up considerably during the summer while learning abot romance, homesickness, death, and her cousin's search for his biological father.
---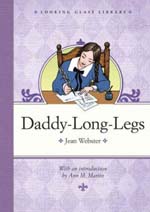 Daddy-Long-Legs Orphaned Judy Abbot,who dreams of escaping a life of drudgery at the John Grier Home, accepts a wealthy benefactor's offer to pursue an education in exchange for regular letters about college life.
---
Dear Hank Williams In Rippling Creek, Louisiana, in 1948, eleven-year-old Tate writes letters to her favorite country singer, sharing her dreams of becoming a singer and revealing that her mother is in prison.
---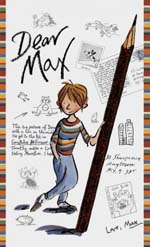 Dear Max As Max - who is almost ten - and his favorite author, D.J. Lucas, exchange letters, the two writers help each otehr with their new books and develop a special friendship.
---
Dear Mr. Henshaw In his letters to his favorite author, ten-year-old Leigh reveals his problems in coping with his parents' divorce, being the new boy in school, and generally finding his own place in the world.
---
Doodlebug: a Novel in Doodles Moving is tough. But the hardest thing of all about the move that Doreen "Dodo" Bussey's family is making is that she suspects it might be because of her. Her mother gives Dodo a blank notebook, which she uses to chronicle the move and the first days in a new city.
---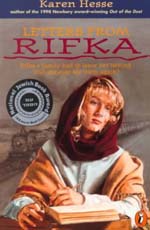 Letters from Rifka In letters to her cousin, a young Jewish girl chronicles her family's flight from Russia in 1919 and her own experiences when she must be left in Belgium for a while when the others emigrate to America.
---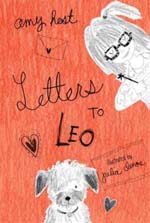 Letters to Leo In a series of letters to her new dog, fourth-grader Annie Rossi relates her daily exploits and remembers her mother.
---
Love, from Paddington Told through Paddington's letters to his aunt Lucy back in Peru, this new novel offers Paddington's own special view on some of his most famous tales, from stowing away on a ship, to working as a barber.
---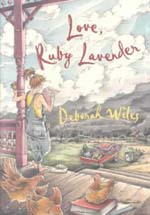 Love, Ruby Lavender When her quirky grandmother goes to Hawaii for the summer, nine-year-old Ruby learns to survive on her own in Mississippi by writing letters, befriending chickens as well as the new girl in town, and finally coping with her grandfather's death.
---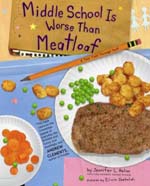 Middle School is Worse Than Meatloaf Ginny starts out with ten items on her to-do list for seventh grade, but notes, cartoons, and other "stuff" reveal what seems like a thousand things that go wrong between September and June, both at school and at home.
---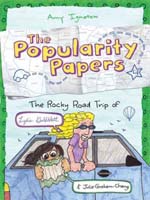 The Popularity Papers It's summertime, and Julie and Lydia are going on a road trip! After all the ups and downs of their first year in junior high, they're looking foward to seeing the sights and getting some new perspective on their quest for popularity. Novel appears in the form of a scrapbook.
---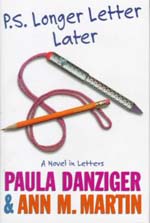 P.S. Longer Letter Later Twelve-year-old best friends Elizabeth and Tara-Starr continue their friendship through letter-writing after Tara-Starr's family moves to another state.
---
Regarding the Bees The seventh graders at Geyser Creek Middle School are preparing for a spelling bee and a horrible standardized test called the BEE, and try to smuggle their mascot -- a bee that spells -- into the local spelling competition.
---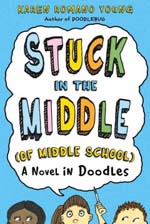 Stuck in the Middle of Middle School: a Novel in Doodles Doreen has vowed to make her new middle school work for her, but it is still a challenge given her ADHD, her younger sister's growing populariy, and tensions between her parents. GOod thing Doreen has her doodle journal!
---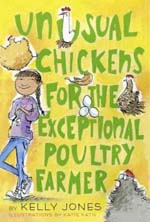 Unusual Chickens for the Exceptional Poultry Farmer Through a series of letters, Sophie Brown, age twelve, tells of her family's move to her Great Uncle Jim's farm, where she begins taking care of some unusual chickens with help from neighbors and friends.
---
Pictures Books: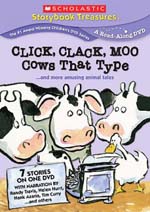 Click, Clack, Moo: Cows That Type When Farmer Brown's cows find a typewriter in the barn they start making demands, and go on strike when the farmer refuses to give them what they want.
---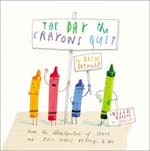 The Day the Crayons Quit When Duncan arrives at school one morning, he finds a stack of letters, one from each of his crayons, complaining about how he uses them.
---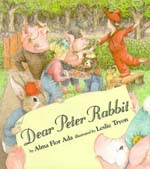 Dear Peter Rabbit In a whimsical tale that unites popular fairy-tale characters as they exchange a series of letters, Pig One invites Peter Rabbit to a housewarming party, Goldilocks and Baby Bear plan a reunion, and Goldilocks (Mr. McGregor's daughter) meets up with Little Red Riding Hood.
---
First Year Letters The children in Mrs. Sarah Jane Hartwell's class write letters to her.
---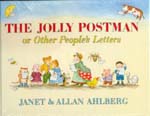 The Jolly Postman A Jolly Postman delivers letters to several famous fairy-tale characters such as the Big Bad Wolf, Cinderella, and the Three Bears. Each letter may be removed from its envelope page and read separately.
---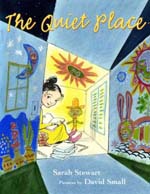 The Quiet Place The story of young immigrant Isabel, who misses her family and friends back in Mexico while decorating a large box as a place of quiet contemplation and encountering new experiences, including a first snowstorm and a kind teacher.
---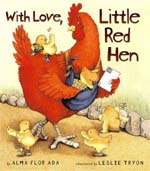 With Love, Little Red Hen A series of letters describe the actions of Goldilocks, Peter Rabbit, the Three Pigs, Little Red Hen, and other storybook characters when Little Red Hen and her chicks become the target of the unsavory Wolf and his cousin, Fer O'Cious.
---
Yours Truly, Goldilocks Presents the correspondence of Goldilocks, the three pigs, Baby Bear, Peter Rabbit, and Little Red Riding Hood as they plan to attend a housewarming party for the pigs and avoid the evil wolves in the forest.