The Camping Trip That Changed America is the story of a very important adventure in the great outdoors. In 1903, President Theodore Roosevelt asked naturalist John Muir to take him camping. Roosevelt was so ready to get lost in the woods he ordered all of his aids away. The two men hiked and camped alone in the redwoods of Yosemite. Muir talked about the geology and the animals and the things he felt endangered them. President Roosevelt watched and listened. When he returned to Washington, President Roosevelt got to work.
In 1905 President Theodore Roosevelt established the U.S. Forest Service. Their spokesperson is someone you might know – Smokey the Bear! The books listed below will feature more unique and interesting stories about our presidents, their families and their time in office.
---
Books:
Use your indyPL Library Card to check out books at any of our locations, or check out e-books and e-audiobooks from home right to your device. Click on a book jacket below to request a book or download it. Need help? Call or ask a Library staff member at any of our locations or text a librarian at 317 333-6877.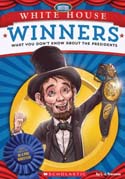 White House Winners - Provides facts and trivia about the United States presidents, including George Washington's false teeth, James Madison's love of ice cream, Franklin D. Roosevelt's stamp collection, and Lyndon B. Johnson's amphibious car.
---
Weird But True US Presidents - What's so weird about U.S. presidents? Plenty! Did you know that Abraham Lincoln was a great wrestler? That Ulysses S. Grant got a speeding ticket riding his horse--twice! Or that Benjamin Harrison was afraid of electricity? And let's not forget that President McKinley had a pet parrot that whistled 'Yankee Doodle Dandy' duets with him! In this new single-subject Weird But True book, you'll have a blast learning that there's a lot of substance--and weirdness--in every president's past.
---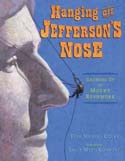 Hanging off Jefferson's Nose: Growing up on Mount Rushmore - Lincoln Borglum was a young boy when his father, the great sculptor Gutzon Borglum, suggested to a group of South Dakota businessmen that he should carve the faces of four presidents into a side of a mountain as an attraction for tourists. But Mount Rushmore would never be finished by Gutzon. It would be his son who would complete the fourteen-year task and present America with one of its most iconic symbols.
---
What to do About Alice?: How Alice Roosevelt Broke the Rules, Charmed the World, and Drove her Father Teddy Crazy! - A brief biography in pictures and simple text of Alice Roosevelt, the daughter of Theodore Roosevelt and his first wife.
---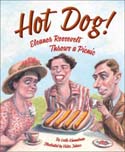 Hot Dog!: Eleanor Roosevelt Throws a Picnic - In June of 1939, British monarchs King George VI and Queen Elizabeth visit America, the first visit ever by reigning British royalty. As part of the festivities, First Lady Eleanor Roosevelt hosts an all-American picnic that includes hot dogs, a menu item that shocked some people!
---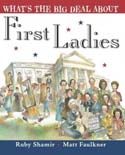 What's the Big Deal about First Ladies? - Discusses what made each first lady unique and describes their role, ambitions, and partnerships with their presidential husbands.
---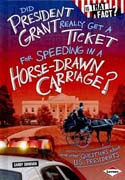 Did President Grant Really Get a Ticket for Speeding in a Horse-drawn Carriage? - Discusses facts and myths about American presidents, including if Washington cut down a cherry tree, if Lincoln walked twenty miles to school, and if Taft weighed more than an elephant.
---

White House Kids: the Perks, Pleasures, Problems, and Pratfalls of the Presidents' Children - Shares the experiences of growing up in the White House, discusses the good and the bad, and profiles the children that have lived there.
---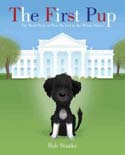 The First Pup: the Real Story of How Bo Got to the White House - Once upon a time, a man named Barack Obama ran for president of the United States. On the night of his victory, he made a very important announcement...his daughters would get a puppy!
---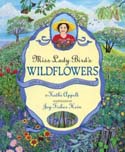 Miss Lady Bird's Wildflowers: How a First Lady Changed America - A biography of Lady Bird Johnson who, as the wife of President Lyndon Johnson, reminded citizens about the importance of conserving natural resources and promoted the beautification of cities and highways by planting wildflowers.
---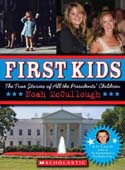 First Kids: the True Stories of all the Presidents' Children - First Kids are, and were, kids like any other, they just lived with parents who happened to be busy running the free world. This book will highlight all of the 43 president's children leading into their adulthood.
---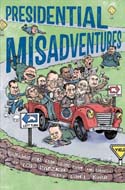 Presidential Misadventures: Poems that Poke Fun at the Man in Charge - A rollicking collection of presidential poems shares lively facts about the misbehaviors of America's commanders-in-chief.
---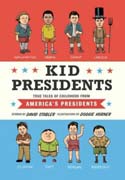 Kid Presidents: True Tales of Childhood from America's Presidents - Presents twenty stories featuring the United States presidents when they were children, including William Taft's dance lessons, Lyndon Johnson's classroom pranks, and Gerald Ford's struggles with dyslexia.
---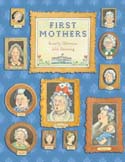 First Mothers - Profiles of the American presidents' mothers reveal their achievements while sharing anecdotes and childhood stories, from Thomas Jefferson's mother's solo management of a plantation to Abraham Lincoln's mother's stint as a wrestler.
---

The President's Stuck in the Bathtub : Poems about the Presidents - A playful, poetic celebration of lesser-known presidential events and eccentricities reveals such examples as John Quincy Adams' skinny-dipping forays in the Potomac and Herbert Hoover's Chinese-language conversations with his wife, in a volume complemented by footnotes and an additional "Presidential Notes and Quotes" section. 10,000 first printing. Jr Lib Guild Premier.
---
Rutherford B., Who Was He?: Poems about Our Presidents - Innovative rhymes about America's 19th president while placing his achievements within the context of his time, incorporating short biographical details and presidential quotes.