The Library will begin primarily using the Axis 360 platform for e-books for kids and teens on April 5, 2021. Some e-books for this audience will be available in OverDrive, but the largest selection will be in Axis 360. Audiobooks will also be transferred in the near future.
If you have been using OverDrive or the OverDrive Libby app to borrow e-books for kids or teens you will want to begin using Axis 360 to see the most complete collection.
You can begin borrowing from Axis 360 using your IndyPL library card in two ways:
The Axis 360 App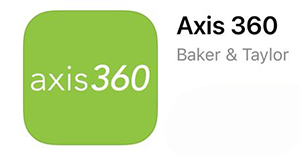 Download the Axis 360 app to your device. Start where you get your apps for your device:
In the app stores search for "Axis 360." The developer is Baker & Taylor. When you open the app you will be prompted to find "Indy Public Library." Log in with your IndyPL library card number and PIN. Here are some step-by-step directions and a video tutorial created for you by our Tinker Station staff.
NOTE: If you already have the app, make sure you have updated to the most current version for the best user experience!
The Axis 360 Website
You can access the Axis 360 websites from a tablet, PC or Mac computer. There are three collections to make it easy for kids and teens to find books for their age level, or look at both collections together.
Need help? Try Getting Started with Axis 360 on Mobile Devices, Axis 360 Mobile Devices FAQ, or Axis 360 Support.

Need more help? Ask a Library staff member at any of our locations or call, text or email Ask-a-Librarian.