Mary Titcomb, a librarian in Maryland in the early 1900s, was always looking for ways to improve her library. One of the things she worried about was getting books to people who lived far away from her library building. She also wanted to have more space and more books for children. Mary set up book-deposit stations, kind of like the Little Libraries we see popping up around town today. She also made a children's room in her library. Her most unique idea though, was a horse-drawn book wagon. No one had ever seen one of those before! Soon book wagons were appearing in other parts of the country, and by 1922, the book wagon idea was very popular. The bookmobile was born!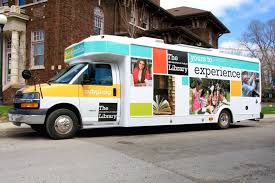 Maybe you have seen one of our bookmobiles driving around town. We have two that visit neighborhoods and schools all over the city each day delivering books to people who live or go to school where getting to a library branch is difficult. If you want to take your child to visit one, bring your library card and come to one of our bookmobile stops. Kids love trucks, books and cozy little spaces. Our bookmobiles are all three! Below is a video showing what one of our bookmobiles looks like on the inside. It is filled with great books and great people! To learn more about bookmobiles check out one of the books below. Each tells the story of a bookmobile. Some of them are from a different part of the world where it makes sense to deliver books by boat, burro or camel!
Websites:
Books:
Use your indyPL Library Card to check out books at any of our locations, or check out e-books and e-audiobooks from home right to your device. Click on a book jacket below to request a book or download it. Need help? Call or ask a Library staff member at any of our locations or text a librarian at 317 333-6877.
---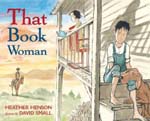 That Book Woman - A family living in the Appalachian Mountains in the 1930s gets books to read during the regular visits of the "Book Woman"--a librarian who rides a pack horse through the mountains, lending books to the isolated residents. e-video,
---
Miss Dorothy and Her Bookmobile - Dorothy has always wanted to work in a library like the red brick one of her girlhood, but after moving to rural North Carolina she discovers that the type of library is less important than the books and the people who read them.
---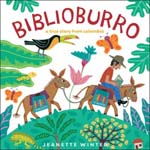 Biblioburro: a True Story from Colombia - After amassing piles of books, Luis, a voracious reader, dreams up a way to share his collection with 'faraway villages.' He starts with two burros--one for himself, one for books--and heads off. Tough terrain and menacing bandits challenge him along the way, but at last he reaches a remote town, where he holds a story hour and loans titles to eager kids before returning home to his wife and reading late into the night.
---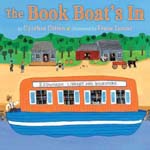 The Book Boat's In - On a book boat on the Erie Canal in the 1800s, Jessie spots a used copy of The Swiss Family Robinson, then works very hard all week to earn the money he needs to buy it. Includes historical note.
---
Waiting for the Biblioburro - When a man brings to a remote village two burros, Alfa and Beto, loaded with books the children can borrow, Ana's excitement leads her to write a book of her own as she waits for the BibliBurro to return. Includes glossary of Spanish terms and a note on the true story of Columbia's BiblioBurro and mobile libraries in other countries.
---
Wild About Books - A librarian named Mavis McGrew introduces the animals in the zoo to the joy of reading when she drives her bookmobile to the zoo by mistake.
---
Librarian's Night Before Christmas - Santa flies in on a book mobile to bring a poor library gifts. In a parody of the famous poem by Clement C. Moore, a harried librarian and her facility get a surprise holiday visit from Santa and his bookmobile.
---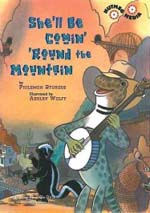 She'll Be Comin' 'Round the Mountain - (DVD) To the melody of the popular children's song, a community of friendly animals prepare for the arrival of the librarian in her bookmobile!
---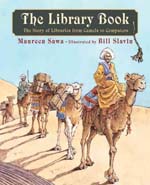 The Library Book: the Story of Libraries from Camels to Computers - From books being delivered by camel in the hot lands of Kenya through the pack-horse librarians of Kentucky and beyond, this informative book explores how libraries existed and developed throughout history and the role they played in society in their time.
---
My Librarian is a Camel: How Books Are Brought to Children Around the World - Describes unusual mobile libraries found around the world. Young Hoosier Book Award, 2008-2009, 4-6 Nominee.
---